Arcturus Therapeutics, CureVac Announce Collaboration
Sunday, January 7, 2018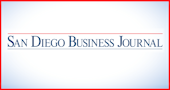 San Diego-based Arcturus Therapeutics and CureVac AG have agreed to a broad partnership to discover, develop and commercialize molecular therapy drugs.
The companies will develop up to four novel messenger RNA therapeutics, drawing upon Curevac's mRNA sequence and Arcturus' lipid-mediated nucleic acid delivery system.
In addition, the collaboration grants CureVac, based in Germany, access to the delivery system.
The companies first joint therapy will target ornithine transcarbamylase deficiency, a genetic disease marked by ammonia accumulating in the blood. Development costs will be shared, with plans to co-commercialize products under a profit-sharing agreement.
"We believe our collaboration with CureVac has the potential to help reduce costs, mitigate manufacturing risks, and accelerate our timelines for ushering quality mRNA medicines into the clinic," said Joseph Payne, president and CEO of Arcturus.