LIFESTYLE
SD 500: Robert (Bob) Hoehn
Friday, January 5, 2018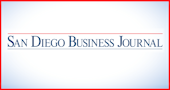 The San Diego 500, The Book of Influential Business Leaders, is the market's most comprehensive product of people you should know in the business community. The 500 includes business leaders and executives who have founded or are running significant companies in terms of number of jobs, key products and services, experts who raise the level of the industry here and beyond and those who lead in the business community. The 500 is selected by the San Diego Business Journal newsroom.
Robert (Bob) Hoehn
President, The Hoehn Co. Inc./Hoehn JLR Inc.
The Hoehn family has been in the automobile business since 1928, when Robert Hoehn's grandfather opened a Chevrolet dealership in Memphis. His father ran the company until he moved the family to La Jolla and founded Hoehn Motors in 1975. Brothers Bob and Bill joined the operation and built it into a successful enterprise, selling luxury brands such as Porsche, Jaguar and Mercedes-Benz. He served on the University of San Diego's Board of Trustees and as a board member for the Timken Museum of Art, Catholic Charities San Diego, the San Diego Museum of Art and the Balboa Art Conservation Center. He created an endowment to support the Robert and Karen Hoehn Family Galleries at the USD.
ALMA MATER: Bowdoin College
PASSION: Art collector of 15th century prints.