REAL ESTATE
SD 500: Jason Hughes
Friday, January 5, 2018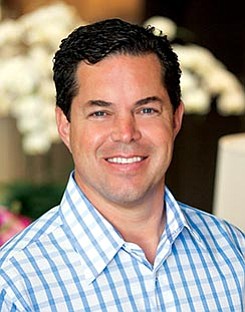 The San Diego 500, The Book of Influential Business Leaders, is the market's most comprehensive product of people you should know in the business community. The 500 includes business leaders and executives who have founded or are running significant companies in terms of number of jobs, key products and services, experts who raise the level of the industry here and beyond and those who lead in the business community. The 500 is selected by the San Diego Business Journal newsroom.
Jason Hughes
President and CEO, Hughes Marino
Jason Hughes is president, CEO and owner of Hughes Marino, one of San Diego's leading commercial real estate and construction management companies for tenants and buyers. He began his career working for Cushman & Wakefield while he attended college. After graduation, he moved to San Diego and represented both tenants and landlords before joining a local tenant representation firm. In 1993, he co-founded Irving Hughes. In 2011, he formed Hughes Marino, now the largest tenant and buyer representation firm in San Diego. The firm has expanded to Orange and Los Angeles counties, the Bay Area and Seattle. The firm this year won Best Places to Work honors in the San Diego, Orange County and Los Angeles Business Journals.
ALMA MATER: Pepperdine University, University of San Diego
LOCAL CLOUT: He was one of nine civic leaders on The Citizen's Stadium Advisory Group in 2015.