LIFESTYLE
SD 500: Ernie Hahn
Friday, January 5, 2018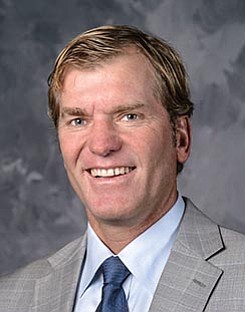 The San Diego 500, The Book of Influential Business Leaders, is the market's most comprehensive product of people you should know in the business community. The 500 includes business leaders and executives who have founded or are running significant companies in terms of number of jobs, key products and services, experts who raise the level of the industry here and beyond and those who lead in the business community. The 500 is selected by the San Diego Business Journal newsroom.
Ernie Hahn
Senior Vice President and GM,Valley View Casino Center/AEG Management San Diego
Ernie Hahn is the general manager of the Valley View Casino Center/ San Diego Sports Arena. It's a role he has held since 1996. He began working with the Arena Group five years earlier, as an event coordinator. His current responsibilities include overseeing the booking, development, sponsorship and other day-to-day operations of the arena with added emphasis on revenue-generating activities. Recent accomplishments include bringing back hockey – the San Diego Gulls – to the arena. The Gulls are now in their third season playing at the San Diego Sports Arena. In the 2016-17 season, the Gulls had the second-highest attendance in all of minor league hockey.
ALMA MATER: Santa Clara University
CIVIC INVOLVEMENT: Board member at the Downtown San Diego Partnership.
PERSONAL: "Making sure that I live up to the Hahn name in: my own way and not based on what others think."
BUSINESS ADVICE: "Treat others as you would like to be treated."