LEADING INDUSTRIES
SD 500: Marc Duvall
Thursday, January 4, 2018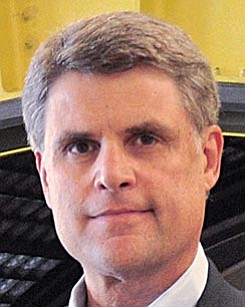 The San Diego 500, The Book of Influential Business Leaders, is the market's most comprehensive product of people you should know in the business community. The 500 includes business leaders and executives who have founded or are running significant companies in terms of number of jobs, key products and services, experts who raise the level of the industry here and beyond and those who lead in the business community. The 500 is selected by the San Diego Business Journal newsroom.
Marc Duvall
President, Aerostructures/UTC Aerospace Systems
Marc Duvall is president of UTC Aerospace Systems' subsidiary, Aerostructures. He was named president of the Chula Vista-based subsidiary in 2010, after serving as vice president and general manager of Operations and Airbus Programs. The company designs and manufactures nacelles, thrust reversers, and pylons for large commercial, regional and military aircraft. Prior to joining the company, Duvall was vice president and general manager of Honeywell's Process Solutions, and Industrial Measurement and Control business units. Duvall began his career at Garrett Engine Turbine Co. and served in a variety of engineering and management roles with AlliedSignal in both the United States and Europe.
ALMA MATER: Arizona State
BUCKET LIST: Play golf at Pebble Beach.
FUN FACT: He has done business in 80 countries and lived overseas for seven years.
BUSINESS ADVICE: "Have good people around you and don't be afraid to take risks."