HEALTH & SCIENCE
SD 500: Francis Desouza
Thursday, January 4, 2018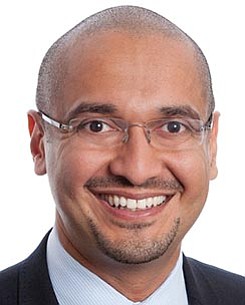 The San Diego 500, The Book of Influential Business Leaders, is the market's most comprehensive product of people you should know in the business community. The 500 includes business leaders and executives who have founded or are running significant companies in terms of number of jobs, key products and services, experts who raise the level of the industry here and beyond and those who lead in the business community. The 500 is selected by the San Diego Business Journal newsroom.
Francis deSouza
CEO, President, Illumina Inc.
In early 2016, Francis deSouza took the helm of San Diego's DNA tech giant Illumina Inc., and he is leading the company into new markets. Illumina has grown into the largest maker of genome sequencing machines in the world. The instrument company, which has long served the research industry, is moving into hospitals, clinics, and other markets with DNA applications. In this phase of growth, deSouza brought a background quite different than predecesser Jay Flatley. DeSouza, whose background was in startups, software and telecom, founded two startups: a messaging app called Flash Communications (bought by Microsoft) and a cybersecurity company called IMlogic (acquired by Symantec) before age 30. Before joining Illumina, deSouza spent over a decade at Symantec, climbing the ranks of leadership until he was president of products and services. Now, deSouza is embarking on an aggressive five-year plan to extend genomics from research labs into doctors' offices and as consumer products.
WUNDERKIND: DeSouza attended the Massachusetts Institute of Technology (MIT) at 16 years old and founded his own venture capital firm by age 25.
FUN FACT: When deSouza was accepted into MIT, his parents, who lived in Dubai, first confused the prestigious university with a low-level vocational school, and expressed deep disappointment to deSouza that he didn't have higher intellectual ambitions.
IP: DeSouza holds a number of patents in computer security.