REAL ESTATE
SD 500: Roger Ball
Wednesday, January 3, 2018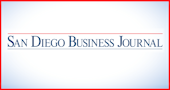 The San Diego 500, The Book of Influential Business Leaders, is the market's most comprehensive product of people you should know in the business community. The 500 includes business leaders and executives who have founded or are running significant companies in terms of number of jobs, key products and services, experts who raise the level of the industry here and beyond and those who lead in the business community. The 500 is selected by the San Diego Business Journal newsroom.
Roger Ball
President and CEO, Rick Engineering Co.
Roger Ball is president and CEO of Rick Engineering and is responsible for overseeing the firm's operations, providing multidisciplined planning, design, engineering and surveying services from seven offices, including locations in Arizona, San Luis Obispo, Sacramento and San Diego. Ball joined Rick Engineering in 1974 as a draftsman and became president and CEO in 2006. Ball is active in professional groups, including the American Society of Civil Engineers, and in civic groups, including the California Taxpayers Association and the San Diego Interfaith Housing Foundation. In October 2017, Rick Engineering employees, family and friends came together to raised $8,000 at the American Heart Association's Annual Heart Walk.
ALMA MATER: San Diego State University.
AFTER HOURS: He enjoys owning and restoring antique and classic cars.