TECHNOLOGY
SD 500: Richard Baldridge
Wednesday, January 3, 2018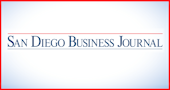 The San Diego 500, The Book of Influential Business Leaders, is the market's most comprehensive product of people you should know in the business community. The 500 includes business leaders and executives who have founded or are running significant companies in terms of number of jobs, key products and services, experts who raise the level of the industry here and beyond and those who lead in the business community. The 500 is selected by the San Diego Business Journal newsroom.
Richard Baldridge
President and COO, ViaSat
Richard Baldridge is responsible for leading ViaSat's corporate strategy and operations, guiding and evaluating the company's three operating segments – services, commercial, and government – and cultivating and maintaining relations with the investor community. The company provides high-speed, satellite broadband services and secure networking for military and commercial markets. Richard has served in several senior positions at the company, including vice president, CFO and executive vice president and COO. He was appointed president in November 2003. During his tenure, ViaSat has expanded 10-fold through acquisitions and organic growth. Baldridge is also a board member for EvoNexus.
ALMA MATER: New Mexico State University
INFLUENCE: Clayton Christensen's book, 'The Innovator's Dilemma' was influential in how he approached company culture.