CIVIC
SD 500: Marcela Celorio
Wednesday, January 3, 2018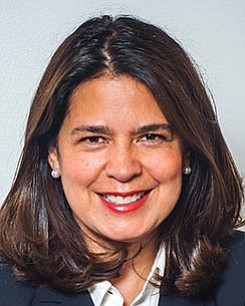 The San Diego 500, The Book of Influential Business Leaders, is the market's most comprehensive product of people you should know in the business community. The 500 includes business leaders and executives who have founded or are running significant companies in terms of number of jobs, key products and services, experts who raise the level of the industry here and beyond and those who lead in the business community. The 500 is selected by the San Diego Business Journal newsroom.
Marcela Celorio
Consul General of Mexico in San Diego
Marcela Celorio was appointed Consul General to San Diego in December 2015. In May 2017, her diplomatic role expanded to include her promotion to ambassador. She came to San Diego after serving as the deputy consul general in New York City. She is a career diplomat with 16 years of service to the Mexican Ministry of Foreign Affairs and Ministry of the Interior, including assignments to the Mexican embassies in Israel, Belgium and in Washington, D.C., where she served as chief of staff and political advisor.
ALMA MATER: Escuela Libre de Derecho, Instituto Matias Romero, the American University
BUCKET LIST: Write a novel.
FUN FACT: "Remember John Lennon's laughter when he sang 'Love'? Well, that snarky kind of laughter comes around sometimes."
 SLOGAN: Behind a great woman there is a great team, "like the one I lead at the Consulate General of Mexico in San Diego."