LEADING INDUSTRIES
SD 500: Linden P. Blue
Wednesday, January 3, 2018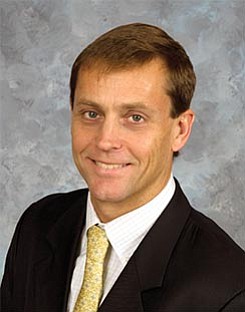 The San Diego 500, The Book of Influential Business Leaders, is the market's most comprehensive product of people you should know in the business community. The 500 includes business leaders and executives who have founded or are running significant companies in terms of number of jobs, key products and services, experts who raise the level of the industry here and beyond and those who lead in the business community. The 500 is selected by the San Diego Business Journal newsroom.
Linden P. Blue
CEO, General Atomics Aeronautical Systems Inc.
Linden P. Blue is CEO of General Atomics Aeronautical Systems Inc., which builds the Predator line of unmanned aircraft in Poway. The company is an affiliate of advanced technology specialist General Atomics – a business that his father, J. Neal Blue, and uncle, Linden S. Blue, bought from Chevron in 1986. After working for GA's German affiliate and managing its power inverter business, Linden joined the Aeronautical Systems in 2003, where he oversaw the technical development of sensors that Predator can carry. He led the company's Reconnaissance Systems Group before being named CEO in 2014. In October 2017, General Atomics Aeronautical Systems, Inc. was recognized for its Gray Eagle Extended Range (GE-ER) program at Aviation Week's 16th Annual Program Excellence Awards event.
ALMA MATER: Stanford
PASSION: Sailing
ENJOYS MOST: I am constantly interacting with a broad range of disciplines: technical, financial, manufacturing, marketing, business process, etc.
TOUGHEST CHALLENGE: Making sure that a growing business doesn't "grow apart."
BEST ADVICE: Focus on the important things.