REAL ESTATE
SD 500: John P. Case
Wednesday, January 3, 2018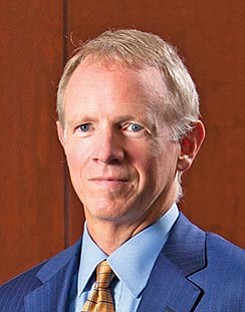 The San Diego 500, The Book of Influential Business Leaders, is the market's most comprehensive product of people you should know in the business community. The 500 includes business leaders and executives who have founded or are running significant companies in terms of number of jobs, key products and services, experts who raise the level of the industry here and beyond and those who lead in the business community. The 500 is selected by the San Diego Business Journal newsroom.
John P. Case
CEO, Realty Income Corp.
John Case joined Realty Income Corp. in 2010 as executive vice president and chief investment officer. In 2013, he was promoted to president. Through the third quarter of 2017, Case expects Realty Income Corp. to complete approximately $1.5 billion in acquisitions. The firm's real estate portfolio ended the quarter with occupancy of 98 percent. Realty Income Corp. released 79 properties at a recapture rate of nearly 104%, the fifth-consecutive quarter in excess of 100 percent. Moreover, revenue for the nine months that ended September 30, 2017 increased 11 percent to $905.1 million, as compared with $815.3 million for the same period in 2016. Case came to the firm with 19 years of experience as a New York-based real estate investment banker, most recently as co-head of the real estate investment banking for RBC Capital Markets. He began his career at Merrill Lynch, where he worked for 13 years and was named a managing director in 2000. He serves on the board of Washington and Lee University, as well as professional groups including the President's Council of the Real Estate Round Table.
ALMA MATER: Washington and Lee University (B.A., Economics); University of Virginia, Darden School of Business (M.A. Business Administration)
HALLOWED GROUND: He is only the third CEO in the firm's 47-year history.
BIG NUMBERS: He has been responsible for more than $100 billion in real estate capital markets and advisory transactions.