LEADING INDUSTRIES
SD 500: Jason Anderson
Wednesday, January 3, 2018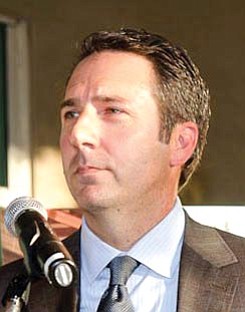 The San Diego 500, The Book of Influential Business Leaders, is the market's most comprehensive product of people you should know in the business community. The 500 includes business leaders and executives who have founded or are running significant companies in terms of number of jobs, key products and services, experts who raise the level of the industry here and beyond and those who lead in the business community. The 500 is selected by the San Diego Business Journal newsroom.
Jason Anderson
President AND CEO,Cleantech San Diego
In 2010, Jason Anderson joined Cleantech San Diego, a nonprofit that positions the San Diego region as a global leader in the cleantech economy. Anderson manages the organization and leads several initiatives that are critical to the mission of the organization, which has more than 100 businesses, universities, governments and nonprofits advancing sustainable solutions that benefit the economy and the environment. Before joining Cleantech, Anderson was vice president of business development for the San Diego Regional Economic Development Corp. He came to San Diego in 2006 from Austin, Texas, where he worked for a state senator. He serves on many civic and nonprofit boards. In September 2017, US Ignite announced the selection of Cleantech San Diego and CyberTECH as the key innovation partners for the City of San Diego as a Smart Gigabit Community. US Ignite's Smart Gigabit Communities (SGC) program enhances local community innovation ecosystems by enabling communities to accelerate the development and deployment of next-generation, gigabit applications and services that run on advanced networks.
ALMA MATER: University of Texas
TOUGHEST CHALLENGE: Balancing interests of our members when they fall on opposing sides of an issue.
BEST ADVICE: "Stay focused and surround yourself with smart people."