PROFESSIONAL SERVICES
SD 500: Garrett Bleakley
Wednesday, January 3, 2018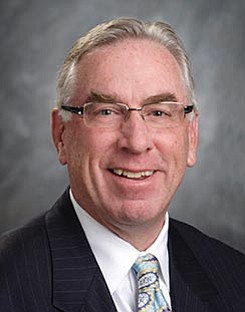 The San Diego 500, The Book of Influential Business Leaders, is the market's most comprehensive product of people you should know in the business community. The 500 includes business leaders and executives who have founded or are running significant companies in terms of number of jobs, key products and services, experts who raise the level of the industry here and beyond and those who lead in the business community. The 500 is selected by the San Diego Business Journal newsroom.
Garrett J. Bleakley
Managing Partner, Northwestern Mutual – San Diego
Garrett J. Bleakley has been managing partner of the San Diego Group of Northwesten Mutual since 1991. He has received numerous company and industry awards during his 30-plus-year career with Northwestern Mutual. He was recently honored with the company's Managing Partner Achievement Award, which recognizes overall excellence in agency development, including recruitment, retention and productivity of financial representatives, and persistency in serving and retaining clients. He's also won the Master Agency Award from GAMA International, which recognizes the Top 250 Agencies in the United States. Bleakley joined Northwestern Mutual in 1981 in Fairfield, N.J. The San Diego Group is comprised of nearly 100 representatives and advisors, and over 100 support personnel, with offices in San Diego, La Jolla, Carlsbad and Honolulu, Hawaii.
ALMA MATER: Middlebury College
ENJOYS MOST: Helping advisors assist their clients in achieving financial security.
FUN FACT: Played quarterback on his college football team.