MONEY
SD 500: Ernesto Arredondo, Jr.
Wednesday, January 3, 2018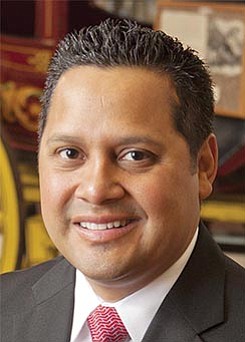 The San Diego 500, The Book of Influential Business Leaders, is the market's most comprehensive product of people you should know in the business community. The 500 includes business leaders and executives who have founded or are running significant companies in terms of number of jobs, key products and services, experts who raise the level of the industry here and beyond and those who lead in the business community. The 500 is selected by the San Diego Business Journal newsroom.
Ernesto Arredondo, Jr.
Chief Banking Officer, Seacoast Commerce Banc Holdings
Ernesto Arredondo Jr. recently joined Seacoast Commerce Bank as its first chief banking officer. He previously was San Diego area president for Wells Fargo, where he oversaw nearly 1,000 employees at more than 55 bank offices with $6 billion in deposits and $2 billion in loans. His appointment follows Seacoast's acquisition of Capital Bank, a commercial bank based in Orange County's San Juan Capistrano. In addition to its San Diego headquarters, Seacoast has banking branches in Encinitas, National City and San Juan Capistrano. The bank has loan production offices in California, Arizona, Colorado, Oregon, Nevada, Texas and the state of Washington. Arredondo has been chairman of the San Diego Regional Chamber of Commerce since April 2016. He was in the Young Hispanic Corporate Achievers Program and also serves on the board of Father Joe's Villages and other local nonprofits.
ALMA MATER: California State University Los Angeles
BEST BUSINESS ADVICE: "You can't skip steps in building a great team. Invest in your people."
FUN FACT: At heart, he is a cowboy who loves country music and bull riding.