TECHNOLOGY
SD 500: Eric Basu
Wednesday, January 3, 2018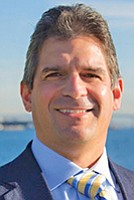 The San Diego 500, The Book of Influential Business Leaders, is the market's most comprehensive product of people you should know in the business community. The 500 includes business leaders and executives who have founded or are running significant companies in terms of number of jobs, key products and services, experts who raise the level of the industry here and beyond and those who lead in the business community. The 500 is selected by the San Diego Business Journal newsroom.
Eric Basu
CEO, Sentek Global
Eric Basu founded Sentek, a cybersecurity firm, out of his home in 2001. He also founded Global Entertainment Security, a company that leverages existing technology to combat the piracy of intellectual property in the entertainment industry. A U.S. Navy veteran, Basu has been named a San Diego Business Journal Most Admired CEO and Sentek is on Inc. magazine's 5000 list.
ALMA MATER: San Jose State University (undergraduate); UCLA (MBA)
HOBBY: Traveling. Writing on philosophical and political issues on his blog, www.postobjectivist.com.
FUN FACT: Flipped a Baja 5000 racecar once and walked away without a scratch.
BUSINESS ADVICE: "The most powerful tool you have in business is your perspective."