HEALTH & SCIENCE
SD 500: Elizabeth Blackburn
Wednesday, January 3, 2018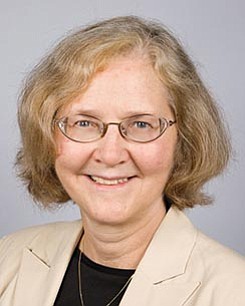 The San Diego 500, The Book of Influential Business Leaders, is the market's most comprehensive product of people you should know in the business community. The 500 includes business leaders and executives who have founded or are running significant companies in terms of number of jobs, key products and services, experts who raise the level of the industry here and beyond and those who lead in the business community. The 500 is selected by the San Diego Business Journal newsroom.
Elizabeth Blackburn
President, The Salk Institute for Biological Studies
Elizabeth Blackburn is the first female president to lead The Salk Institute for Biological Studies, where she has served since 2016. There, she leads an elite group of scientists in the fields of cancer, neuroscience, aging, and plant biology. She came to Salk from UC San Francisco, where she was a professor in the department of biochemistry and biophysics. Blackburn won the Nobel Prize in Physiology or Medicine in 2009 for discovering the molecular nature of telomeres, which are thought to play a role in aging and diseases such as cancer. Along with the Nobel Prize, Blackburn has received some of the major awards in science, including the Lasker, Gruber, and Gairdner prizes.
ALMA MATER: University of Melbourne, University of Cambridge in England, postdoctoral research at Yale University
HOME TOWN: Hobart in Tasmania, Australia.
INSPIRATION: Inspired by her fascination with animals and a biography of the iconic French scientist Marie Curie, Blackburn chose to pursue a career in science.