ECONOMY: FROM LAND TO LAW TO LABS, MARIJUANA SALES BRING CHANGES, OPPORTUNITIES
Preparing For Pot
Monday, January 1, 2018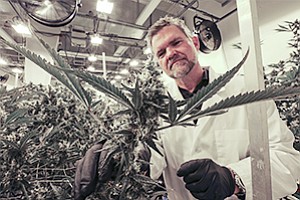 San Diego — Inside a 1,000-square-foot room, yellow incandescent light filters down on leafy green marijuana plants in neat rows. Soon, plants and lighting will be added vertically — like a double-decker bus — so operator Outco can increase production more than twofold.
Legalized recreational marijuana took effect Jan. 1 in California, and cultivators like Outco stick out as winners. Scores of other industries are expected to benefit as well in what is widely anticipated to be a multibillion dollar enterprise in the Golden State.
Increasingly, lawyers make sense of regulations. Real estate specialists scout industrial warehouses. Scientists test contaminants. Insurance brokers give quotes on insuring crops. Startups tap into new markets.
Founded in 2015, Outco gained a foot hold in the market. It operates a medical marijuana dispensary and indoor grow space in an unincorporated area near El Cajon.
The company anticipates $18 million in revenue in 2018, a 300 percent increase from 2017's total, driven by cranked-up production, in part to meet the demand for recreational marijuana. In addition, Outco plans to open new facilities, including two in Long Beach.
Property Search
Helping cultivators find commercial property represents a small but increasing chunk of business for Bobby Israel, vice president of La Jolla-based Legacy Commercial Management.
His services are sought after in light of limited real estate options. There are zoning restrictions on where cannabis businesses can set up, and growers need the right building infrastructure to run large amounts of power.
"It's an extremely tight market to find property that's allowable," Israel said.
The result: warehouse lease rates for commercial cultivation can be twice as high as other uses. Cannabis space runs from $1.75 to $4 a square foot, with the highest prices in La Mesa, which established regulations and issued permits earlier than the city of San Diego.
Landlords charge a premium for good reason. Cannabis businesses face extra scrutiny from neighbors, and landlords could run into banking issues. The federal government regards marijuana as an illegal drug and can pressure banks not to touch cannabis money.
Alternatively, buying a warehouse is a tall order since cannabis operators have to pay in cash, as few will lend on such deals.
Israel said lease rates and prices have gone up in the last year, and whether that continues is tough to say.

"It's a brand new market. It's a lot of throwing numbers in the air and let's see what sticks," he said.

Outco grew about 1,200 pounds of medical marijuana in 2017, but the company anticipates 3,000 pounds of medical and recreational cannabis in 2018.
As opportunities abound in the industry, more and more entrepreneurs without backgrounds in cannabis are chasing the green rush. Outco CEO Lincoln Fish was an early adopter nearly three years ago, when he resigned as a senior vice president of sales and marketing for Avadyne Health, a $50 million health care administration firm.
A self-described nerd who steered clear of cannabis, a friend a few years ago presented him with an opportunity to get into the industry, an idea he initially dismissed as crazy. But further research on the plant's potential — and a desire to change what he saw as draconian cannabis laws — convinced him to take the plunge.

"I was kind of bored with what I was doing then, and I thought it was time to sink my teeth into something new," Fish said. "I love a good fight, and it's the right fight."
The Law
Similarly, the interplay of advocacy, politics and social justice drew attorney Kimberly Simms to the industry. She opened a medical marijuana-centric law practice in 2009, with few competitors given that larger firms are reluctant to take on cannabis for fear of ruffling the feathers of corporate clients.
Her specialties include land use, zoning and government regulations, which are all hot topics these days. The passage of Proposition 64 in 2016 meant state legalization, but local jurisdictions still hold the power to forbid cannabis in their boundaries.
In the county, only the city of San Diego has allowed both recreational sales and cultivation, while other cities continue to wrestle with what's allowed. One example is Encinitas, where voters in 2018 will give the thumbs up or down to a cultivation ballot measure.
Businesses scrambling to comply with new state and local rules have kept Simms busy in recent months.

"Across the industry, January 1 makes the need for services greater because of the level of compliance that the cannabis industry is faced with," Simms said.
The Labs
That's particularly true of labs.
"Everyone is hustling right now, us included," said Samuel David, the CEO of Coastal Analytical, one of San Diego County's few marijuana testing facilities.
As of Jan. 1, all products sold at medical and recreational marijuana dispensaries, from topicals to edibles, must be tested at state-licensed labs.
Marijuana labs have been around in San Diego for the last decade. But testing hasn't been required. While some dispensaries voluntarily tested for potency, a broader range of analysis must now be done.
David said dispensaries began ramping up orders in the fall to gauge whether products are in line with state standards. December was on pace to double revenue from November, which was triple the sales of the previous month.
Coastal Analytical and existing labs have an early advantage, as potential competition has a big barrier to entry. It costs about $1 million to get a new lab off the ground.
Potential $5 Billion Market
In California, recreational marijuana is expected to account for $5 billion in annual sales, according to an analysis conducted by the Agricultural Issues Center at UC Davis.
But don't expect a huge market right out of the gate. As of Dec. 20, only two San Diego companies had state licenses, though the number is expected to mushroom in the coming weeks as applications are processed.
On Dec. 15, Torrey Holistics dispensary in Sorrento Valley became the first business in the state to get a retail cannabis license. The dispensary had been selling medical marijuana, and the license allowed it to expand into recreational sales.
Marketing director Ruthie Edelson said in an email the company submitted a thorough application, and being recognized as the first "feels like an A+."
She added Torrey Holistics has been stocking up on product to meet demand, as well as ensuring products comply with state rules on dosing and child-proof packaging.
Licensing
Investors are closely watching which companies snag state licenses, according to Eric Gomez, CEO of Canopy San Diego, a tech accelerator for marijuana startups.
"Are the people who are in business yesterday going to be in business tomorrow? It's maybe not so much about the opportunity and the size of the market, but more, who are going to be the players?" Gomez said.
Gomez said it's all but impossible to track the amount of marijuana investment flowing into San Diego, since most of the deals are private and unannounced. That said, more companies are popping up and applying for licenses.
Besides regulatory challenges, it can take marijuana operators more time to secure capital.
"In an average mainstream industry if it takes you six months to raise half a million dollars, in this industry it's going to take you nine months, because you have to answer so many more questions about market and risk."
For would-be investors, he cautioned about painting the industry with a broad brush.
"Each one of these sectors is really completely unique, when you break down market size, investment, appetite risk."
Getting Insurance
California regulators have sought to cut down on cannabis business risk, including California Insurance Commissioner Dave Jones encouraging insurance coverage.
Through Jones' efforts, in November Stockton-based Golden Bear Insurance Co. made headlines as the first "admitted commercial carrier," with policies that cover cultivators, manufactures and retailers.
That doesn't mean Golden Bear is the first to provide insurance among the cannabis business. But having admitted carriers reduces coverage gaps, and makes it easier to cover losses like fires torching crops.
As with banking, federal ties have made insurers nervous to enter the market. But San Diego insurance broker Tracy Sekhon said after dipping their toes in the water, insurers appear ready to jump in.

"It feels like insurers are now coming to the conclusion that it's a profitable business and there's no reason they shouldn't be in this," Sekhon said.
Her focus is on auto, home, life and business insurance, but Sekhon has marijuana clients like Outco. She foresees an increase.
"For me I think there's enough regulation, the licensing process has been thorough, the loss ratios have been low," Sekhon said. "But there's still a lot of waiting to see how this will pan out."