Northrop Grumman Awarded $255.3M U.S. Navy Contract
Monday, January 1, 2018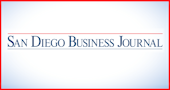 Three Triton aircraft are the centerpiece of a $255.3 million contract that the U.S. Navy awarded Northrop Grumman Corp. on Dec. 28.
The MQ-4C Triton is an unmanned model with a 131-foot wingspan currently in low-rate initial production.
Under the new deal — technically a contract modification — Northrop Grumman (NYSE: NOC) will provide three of the 16-ton, spoon-nosed aircraft, which are equipped with sensors for intelligence, surveillance and reconnaissance. The business will also provide what the Pentagon calls trade studies and tooling in support of the Persistent Maritime Unmanned Aircraft Systems Program Office. Some 30 percent of the work will be performed in San Diego. Northrop Grumman does major unmanned systems work at its Rancho Bernardo campus, while its headquarters are in suburban Washington, D.C.
The Naval Air Systems Command of Patuxent River, Maryland, awarded the contract. Work will continue through December 2021.