Seeing Industrial In A New Light
Wednesday, February 28, 2018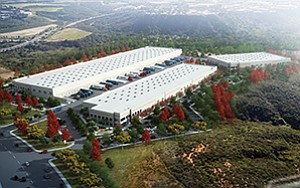 San Diego — Sweeping views of the Pacific Ocean are not normally associated with industrial projects, but that's what comes with a three-building complex Ryan Cos. U.S. Inc. is building in Carlsbad.
"It's crazy," said Chris Wood, West Region president of Ryan Cos.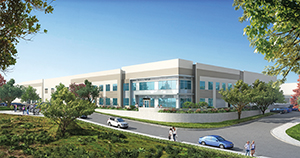 "It's kind of what you'd see in a high-end residential development," Wood said. "It's an amazing site, surrounded on three sides by open space with expansive views to the west."
Built atop a hill in the Carlsbad Oaks North industrial park, the 411,000 square feet complex which Ryan calls the Pacific Vista Commerce Center will be one of the largest industrial projects in North County.
Developed by Techbilt Construction Corp., Carlsbad Oaks North is a 150.6-acre business park that is part of a 600-acre master planned development with more than 200 acres of natural open space.
Construction of Pacific Vista started in late February and is expected to be finished by late September or early October.
Joint Venture
The project — a joint venture with Deutsche Asset Management — is the first in Southern California in which Ryan Cos. is both the developer and the general contractor.
Ryan also will manage the project when it's finished.
Ware Malcomb is providing design and architectural services and SB&O is providing civil engineering and storm water design services.
Minneapolis-based Ryan Cos. has had a satellite office in San Diego since 2014, and in 2016 made the San Diego office its West Coast headquarters.
Ryan was the general contractor on several projects in Oceanside, including the 149,264 square-foot Pierside Apartments complex and the 149-room Spring Suites hotel.
The company also is working with HCP Inc. real estate trust on a 303,000 square-foot project in Poway, and is renovating several Target stores in San Diego County, Wood said.
"As a company, we build office, industrial, retail, multifamily, mixed use, hospitality, senior housing and medical office — quite an array," Wood said. "We're on a big growth trajectory."
With offices in La Jolla, Wood said the San Diego division had $24 million in projects in its first year, $45 million in its second year, and he projected it would have more than $100 million in projects this year.
The company has 36 employees in San Diego, and Wood said it would add eight in 2018.
Carlsbad's Climate Action Plan
Wood said Pacific Vista was designed from the outset to be a standout project.
As one of the first to be approved under Carlsbad's Climate Action Plan, the three buildings will be LEED certified with rooftop solar arrays capable of generating nearly one megawatt of electricity.
Prev Next