SD 500 Update: Real Estate Firms Play Leading Role In These Big Deals
Wednesday, February 28, 2018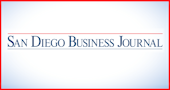 San Diego — Two of the region's leading real estate firms have made monumental transitions.
Buying: Pacific Sotheby's International Realty, led by Brian Arrington and Steve Games, has acquired Hom Sotheby's International Realty and its presence in Orange County and the Coachella Valley. Arrington is founder and chairman of the Pacific Sotheby's local franchise and Games is CEO.
• • •
Selling: Dene Oliver and Jim McMillan have sold their commercial real estate development firm, OliverMcMillan, to Brookfield Residential Properties Inc. Oliver will continue in his capacity leading the 125-person team, which is now a division of the larger Canadian company. Jim McMillan is retired.
• • •
Felena Hanson and Ashok Kamal have joined the board of Startup San Diego, which hosts Startup Week and supports the overall startup ecosystem.
Hanson is founder of Hera Hub, which operates nine coworking spaces for female entrepreneurs, including three in San Diego County, with plans underway for another four.
Kamal is executive director of the San Diego chapter of Tech Coast Angels and himself an angel investor.
Startup Week 2018 is scheduled for June 25-29.
Startup San Diego already is well represented in the SD 500 as Neal Bloom is board chair and Eric Otterson of Silicon Valley Bank is on the board.