RETAIL: BUSINESS REALITIES LOOM LARGE AT HOBBY-ORIENTED SHOPS
Comic Book Stores Must Profit or Perish
Wednesday, February 28, 2018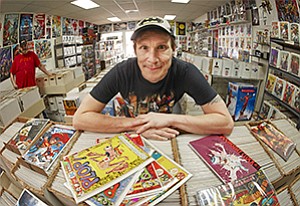 San Diego — Entrepreneurs who open comic book stores because of their love of comics quickly learn that they can't succeed if they treat their business like a hobby.
The closure of several comic book shops in San Diego County in recent months hasn't come as a surprise to Bobby Bellman, the owner of San Diego Comics. Comic shops occupy a business niche in which success often is measured by the ability to survive, he said. While some shops are profitable, many get by "on a wing and a prayer."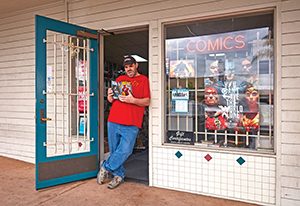 "It's a hard industry," said Bellman, who opened his comic book shop about two years ago. "If you own a comic store, it's because you love it. This is a way to make a living by doing what you like."
To stay in business, comic shops must compete with online sellers, which offer comics at lower prices and in digital form. Priced at $4 and $5 per issue, comics are pricey, which makes the comic shop business vulnerable to dips in the economy. Comic shop closures are common in communities where multiple stores compete for the same customers. Because the clientele is dominated by adult males, some observers say the stores must attract young readers to ensure their long-term survival.
Books Are the Big Seller
Bellman carries some comic-themed toys and merchandise, but comic books make up 90 percent of his sales. He estimates that business during his second year of operation increased by 10 percent and he thinks his third year will be even better. To keep up the momentum, he has comic book giveaway promotions and makes sure to stock the titles that readers are most likely to buy. Bellman also makes sure his store is a welcoming place, where customers can discuss their hobby with other comics enthusiasts.
The 1,000-square-foot shop on El Cajon Boulevard near 70th Street is filled with colorful posters that feature images of such superheroes as Batman, Black Panther, and Daredevil. A neon sign on the wall spells out the word "comics."
Fans who visit the store can tell at a glance when new artists have taken over their favorite titles. They can name each member of the "Avengers" or the "Justice League." They also have strong opinions about which writers create the best stories.
"We love all the customers," Bellman said. "We know most by first name. We talk with them about the stories and the strange world of comics."
Prev Next