DEAL: LOCAL FIRM'S EXPERIENCE IN HIGH-RISE, MIXED-USE SPURRED MOVE
Brookfield Residential Buys the Expertise of OliverMcMillan
Tuesday, February 20, 2018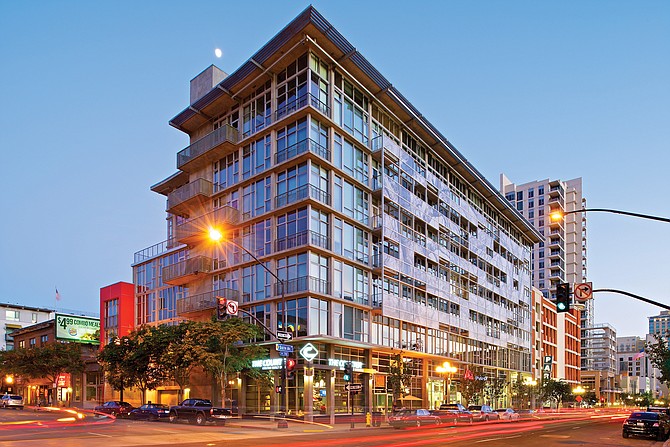 San Diego — San Diego-based developer OliverMcMillan has been acquired by Brookfield Residential Properties Inc. of Canada for an undisclosed amount of money.
OliverMcMillan will continue to operate out of its downtown San Diego offices as a division of Brookfield with founder Dene Oliver remaining as its CEO.
OliverMcMillan's staff of 120, with about 75 based in San Diego, will continue the work they've been doing.
"It really is pretty much business as usual as (much as) possible," said Krista Ellingson, Brookfield Residential spokesperson. "It's quite a complementary match."
The deal has been in the making for the past year, Dene Oliver said.
Tapping McMillan's Specialty
Brookfield Residential specializes in low-rise residential construction and was looking to expand into developing mixed-use, high-rise projects, which is OliverMcMillan's specialty.
"It was kind of a natural marriage. They love what we do. They appreciate our culture. They spent about five months embedded in our company getting to know everyone," said Oliver, who founded OliverMcMillan in 1978 with Jim McMillian, who is retired.
The company has designed and developed more than eight million square feet of projects throughout the United States, with a value of more than $5 billion.
OliverMcMillan has several real estate projects under development, including projects in Houston, Atlanta, Nashville, Honolulu, Denver, Phoenix and Tustin.
95% of Work Outside S.D.
"Our company has grown tremendously as a San Diego based firm to where 95 percent of our work is outside of San Diego," Oliver said. "Today, our offices range from Honolulu to New York City."
In San Diego, OliverMcMillan is redeveloping former rental car lots on Harbor Island near San Diego International Airport and the former Pacific Theaters in the Gaslamp Quarter.
Based in Calgary, Brookfield Residential Properties is an international company which operates in 12 North American markets, including home building divisions in Denver, Austin, Costa Mesa, and now, San Diego, Ellingson said.
Oliver said he was looking to expand OliverMcMillan and the company was already working with Brookfield on Tustin Legacy, a 1,600-acre planned community being developed on the former Marine Corps Station Tustin.
"During that process, the Brookfield people expressed a strong interest, and, of course, we already knew them and felt very comfortable with them and at home with a lot of shared culture," Oliver said. "Had I thought at this time last year that I would achieve this result with this company, I would have been elated."
Joining a Huge Player
By joining Brookfield, OliverMcMillan will be "part of the largest real estate companies in the world," Oliver said.
"Instead of just working in the United States, we'll be working in Canada as well," Oliver said. "We're working on several potential opportunities now."
Oliver gave up a career as a lawyer when he joined with Jim McMillan to form OliverMcMillan.
"The main thing we were concerned about was doing projects that were highly differentiated by great design," Oliver said.
Over time, he said the company has won more than 50 awards for its projects.
When he and McMillan formed their company, there was no way to predict how far the company would go, but Oliver said he never doubted it would be a success.
"I've always been an ambitious guy, and I still am an ambitious guy. That hasn't gone away," Oliver said. "I feel humbled and grateful that my career has been on the trajectory that it has."
OliverMcMillan
Founders: Dene Oliver and Jim McMillan
Headquarters: San Diego
Number of local employees: 75
Company description: Developer of high-rise, mixed use projects throughout the U.S.
Achievements: Developed more than 8 million square feet of projects valued at more than $5 billion.
Key factors for success: Emphasizing design.