S.D. Workforce Partnership Earns Praise From Its Peers
Sunday, February 18, 2018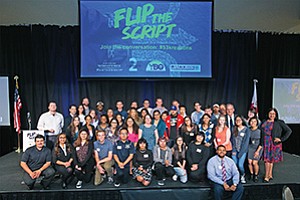 San Diego — The San Diego Workforce Partnership announced that it received the Workforce Innovation and Opportunity Act Trailblazer Award from the National Association of Workforce Boards, the membership organization and advocate for more than 550 workforce development boards nationwide and their network of American Job Centers.
"This prestigious award is only given to only one board out of 550 boards that comprise the workforce system in the U.S," said Peter Callstrom, CEO of SDWP. "Being recognized by our peers and the National Association is testament to our efforts to innovate and maximize impact and deliver upon the tenets and expectations within the ground-breaking Workforce Innovation Opportunity Act, making it possible for the national workforce system to exist, prosper, and serve more than four million jobseekers."
Since 1974, the SDWP has served residents in San Diego County and is recognized for its leadership in bringing together key government, economic development, education, business and industry and nonprofit leaders in broad-based regional planning.
NAWB President and CEO Ron Painter said the honor went to the SDWP because it seeks new approaches to solving regional challenges and its "holistic focus and collaborative approach is an example of how a board with a large population and geographical area to cover can still be flexible, attuned, and ready to fuel change based on regional needs."
Recognizing that not all residents have had equal opportunities to benefit from San Diego's dynamic economy, SDWP funds and delivers job training programs that enable all job seekers to develop the skills and knowledge needed for in-demand careers. SDWP also provides ongoing labor market research on the region's workforce trends and key industries. Visit workforce.org.
• • •
The Horatio Alger Association of Distinguished Americans Inc. announced that local philanthropist T. Denny Sanford has given a $30 million dollar endowment to provide scholarships for one of 12 universities selected by Sanford. The University of California, San Diego and National University are among those chosen. Sanford's involvement at National University is ongoing, as he recently founded the Sanford College of Education at National University, which is also home to the founding Sanford Institute of Philanthropy. Visit horatioalger.org.
• • •
The Fleet Science Center announced its full-day STEAM Spring Camps are available every day begin on Monday, March 26, and end Friday, March 30. The camps take place at the Science Center and feature fun, educational, hands-on activities for kids in grades 1 through 7. Parents can enroll their children for one day, multiple days or the full week. Visit fleetscience.org.
• • •
The Rest Haven Children's Health Fund, an endowment fund to assist children in San Diego and Imperial counties with health-related needs, has awarded $23,695 to the San Diego Center for Children. The funding will allow the center to purchase new sensory and therapeutic assessment tools that will enhance the center's ability to provide individually-appropriate treatment for each youth served. The center provides evidence-based therapeutic, educational, foster care and transition services to children and families struggling with mental, emotional and behavioral disorders. With eight program sites and community-based services within hundreds of homes and schools across San Diego County, the center empowers more than 1,000 people every day. Visit resthavenchf.org.
• • •
Coronado-based Citizens' Climate Education announced that it received a two-year, $1 million grant from the John D. and Catherine T. MacArthur Foundation to educate and empower citizens working on national solutions to climate change.
The grant follows a previous two-year, $500,000 grant from the MacArthur Foundation. Since then, volunteers with CCE and its sister organization Citizens' Climate Lobby have played a leading role in the formation and growth of the bipartisan Climate Solutions Caucus in the U.S. Congress. To date, it has enrolled more than 92,000 supporters to build bipartisan consensus for national climate action. In 2017, volunteers with CCE held 1,644 meetings with congressional offices and generated 4,308 publications including letters to the editor, op-eds, and articles in print and online publications. Visit citizensclimateeducation.org.
Send Kudos/Giving to
sglidden@sdbj.com.