Puffer Malarkey to Have Presence at Pacific Gate
Sunday, February 18, 2018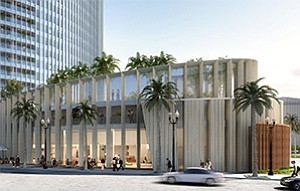 San Diego — Pacific Gate — one of downtown San Diego's priciest condominium towers — is adding Puffer Malarkey's Animae restaurant on the ground floor of its 41-story project.
The restaurant is slated to open at the end of 2018 as the anchor of the building's retail space, taking up more than 15,000 square feet.
"We are excited about our partnership with Puffer Malarkey Restaurants, which are so well known, especially in downtown San Diego," said Nat Bosa, president of Bosa Development which built Pacific Gate.
Led by Christopher Puffer, Brian Malarkey and Shane McIntyre, Puffer Malarkey's other restaurants include Herb & Wood, Herb & Eatery, Green Acre, and Farmer & The Seahorse.
"As the waterfront neighborhood continues to grow, Pacific Gate and Animae will provide original experiences for downtown residents and those who visit it," Bosa said.
Animae will feature a blend of Japanese and Southeast Asian cuisine.
"Animae means air, breathing life and soul," said Puffer. "Inspired by travels, Animae will bring the sophistication of Asian cuisine and design with the approachability and excitement our venues provide."
Pacific Gate bills itself as San Diego's first super prime residential building with condominiums that start at $1.1 million and offers a fleet of luxury cars and a yacht for use by its residents.