PE Firm With SoCal Focus Raises $300M Fund
Thursday, February 15, 2018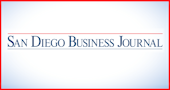 Philadelphia-based private equity firm 1315 Capital LLC, which has two San Diego companies in its eight-company portfolio, has closed its second fund, 1315 Capital II, with more than $300 million.
From its new fund, 1315 Capital intends to invest an average of $10 million to $30 million into aesthetics, ophthalmology and diagnostics companies; Southern California is among its target markets.
The firm invests in commercial-stage specialty pharmaceutical, medical technology and healthcare services companies. In addition to investing in existing companies, it also works with experienced management teams to acquire or license commercial-stage assets and launch a "jumpstart."
In 2017, 1315 Capital was part of the management group that acquired Carlsbad-based hematopathology center, Genoptix. The firm teamed up with San Diego biotech executive Joseph Limber and Ampersand Capital Partners, a Boston-based PE firm.
Also in 2017, 1315 Capital led San Diego-based cosmetics company Colorescience's $15 million Series C round.
Adele Oliva, a founding partner at 1315 Capital, previously served on the boards of two San Diego companies: Prometheus Laboratories Inc., of which Limber was CEO for about a decade before it was sold to Nestle's health science unit in 2011, and SkinMedica.
As of the closure of its second fund, 1315 Capital managed more than $500 million in total assets.
Reach finance and startups reporter Sarah de Crescenzo at sarahd@sbj.com.