GA-ASI Taps Boeing in Carrier Aircraft Bid
Thursday, February 15, 2018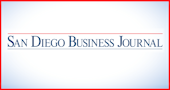 General Atomics Aeronautical Systems Inc. has enlisted a surprising partner in its bid to build an unmanned, carrier-based air refueling aircraft for the U.S. Navy.
The partner is Boeing Co.
The deal is surprising because Boeing (NYSE: BA) is one of three prime contractors proposing its own entry in the MQ-25 Stingray contest, along with General Atomics and Lockheed Martin Corp. The project is expected to be worth billions and perhaps north of $10 billion.
Northrop Grumman Corp. was also part of the contest until it dropped out in October, saying the project would not bring a good return.
General Atomics Aeronautical Systems announced a list of its subcontractors on Feb. 12.
Boeing Autonomous Systems will provide aviation and autonomous system experience, said Chris Raymond, vice president and general manager of the Boeing business unit, in a statement distributed by GA-ASI.
Other subcontractors include engine maker Pratt & Whitney, UTC Aerospace Systems, L3 Technologies, BAE Systems, Rockwell Collins, the Fokker unit of GKN Aerospace, General Atomics Electromagnetic Systems and General Atomics Systems Integration.
Flightglobal reported that GA-ASI's choice of Pratt & Whitney engine reveals that the Poway company's MQ-25 entry will be larger than its jet-powered Predator C Avenger unmanned aircraft. The Pratt & Whitney PW815 commercial engine has about four times the thrust of the engine that powers Predator C, the aerospace website reported.
GA-ASI is based in Poway, where it builds its aircraft. It is an affiliate of privately held General Atomics.