DEVICES: COMPANY GAINS ADVANTAGE BY PARTNERING WITH INSURER
Dexcom Pilot Program Targets Type 2 Diabetes Population
Thursday, February 15, 2018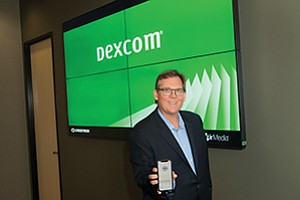 San Diego — Dexcom aspires to widen its reach beyond Type 1 diabetes. Recently, the San Diego company took a big step toward the goal.
In January, Dexcom partnered with insurer UnitedHealthcare on a pilot program to gauge whether its continuous glucose monitoring devices can help Type 2 patients better manage the disease. Another goal is to spur reductions in medications and thus save on health care costs.
While in early days, the pilot program could open up a market among the 27 million Americans with Type 2 diabetes, linked to inactivity and excess body weight. However, to make headway with this demographic, device costs will have to fall, according to one analyst.

Dexcom's technology consists of a sensor — usually worn on the abdomen — that reads glucose levels just beneath the skin. A transmitter sends the data to a smartphone, which processes and displays updated data every five minutes. Historical data can tease out relationships between eating, exercise and blood sugar that are difficult to observe with only test strips, finger stick blood samples and a glucose meter.
"You'll hear at all our investor presentations. We want to replace finger sticks. Well, if we're going to replace finger sticks, we've got to do it all the way across the board," said Dexcom CEO Kevin Sayer. "CGM (continuous glucose monitoring technology) is so much more meaningful than what you get from a finger stick."
Influence of Food and Drugs
Type 2 diabetes treatment includes prescription drugs and diet changes. The pilot, Sayer said, will offer a clearer picture of whether certain drugs make a difference, and if patients take them as prescribed.
"If we just keep adding more pharmaceutical compounds to the treatment of Type 2 diabetes, we're just increasing the cost, and not necessarily getting a better outcome," Sayer said.
Patients will also gain a better understanding of which foods they should be eating.

"When we give a Type 2 patient a continuous glucose feed, they learn all sorts of things they did not know about their bodies before," he said. "They learn about normal things in their diet that are causing their glucose values to rise."
Bigger Patient Population
For Dexcom, this pilot represents a big opportunity.
Most who wear a continuous glucose monitoring device have Type 1 diabetes, and often have an insulin pump. But Type 1 patients make up only 5 percent to 10 percent of diagnosed diabetes cases, according to the Centers for Disease Control and Prevention.

But to gain traction in the Type 2 market, device costs will need to come down to entice a population that doesn't have as strong of a need for continuous glucose monitoring. That's according to Jayson Bedford, an analyst with Raymond James & Associates who covers Dexcom.
"The market opportunity in Type 2 is quite large. I think the issue is cost. Don't forget people with Type 2 diabetes don't need to test their blood glucose levels as frequently."
Partnership Advantage
He added Dexcom is smart to partner with a payer, which could give it an advantage over competitors Medtronic and Abbott Laboratories.
The pilot will include a fraction of the 4.3 million people covered by UnitedHealth's Medicare Advantage.
"Continuous glucose monitoring can be a game changer for people enrolled in our Medicare Advantage plans, as the data can be translated into personalized information that can be acted upon in real time," Brian Thompson, CEO of UnitedHealthcare Medicare & Retirement, said in a statement.