LEAD San Diego Names 6 Visionary Awards Honorees
Wednesday, February 14, 2018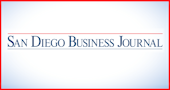 Six prominent San Diegans are slated to be recognized by LEAD San Diego at the 16th annual Visionary Awards this summer.
The leaders, who are involved in tourism, baseball, homelessness, community investment and genome sequencing, will be honored June 14 at the Marriott Marquis San Diego Marina.
LEAD San Diego, the leadership development arm of the San Diego Regional Chamber, runs a number of programs aimed at developing local leaders.
Hundreds are expected to attend the event, which will recognize contributions to the San Diego Baja California Megaregion.
Community and civic volunteer Patti Roscoe is slated to receive the Neil Morgan Memorial Award for Lifetime Achievement, named for the late San Diego journalistic icon.
Roscoe, since selling the destination management company she founded, expanded and franchised, has served as past chair or president of San Diego Convention and Visitors Bureau; San Diego Rotary Club 33; San Diego International Sports Council; and Fleet Week San Diego. She is the chairwoman of Experience San Diego Destination 2040, and a trustee or board member of San Diego State University's Campanile Foundation, the USS Midway Aircraft Carrier Museum Foundation and the San Diego Library Foundation. She co-founded SDSU's L. Robert Payne School of Hospitality and Tourism Management, and heads its board of advisors.
Peter Seidler and Dan Shea are set to receive the Ronald Kendrick Memorial Award for Regional Collaboration, named for the late banking executive and community leader. Their work to improve San Diego's homelessness problem is the impetus for the recognition. Seidler is the general partner of the holding company that owns the San Diego Padres and a founder and managing partner of Seidler Equity Partners, a family-owned private equity fund. Shea is a partner in Paradigm Investment Group, which runs 140 fast-food restaurants across the U.S. He is also co-owner of Donovan's Steak and Chop House restaurants in San Diego, La Jolla and Phoenix.
Jay Flatley, who took Illumina from a startup to a global powerhouse, will receive the Economic Opportunity Award. Flatley was the genomics company's CEO from 1999 until 2016, and now serves as executive chairman of its board of directors. He led the company from $1.3 million in sales in 2000 to $2.2 billion in 2015.
The award presented annually to a graduate of one of LEAD San Diego's programs will go to Lidia S. Martinez, who manages community affairs and grassroots efforts for Southwest Airlines. She is immediate past board chair of MANA National, an organization that empowers Latinas through leadership development, community service, and advocacy; a champion for Hispanas Organized for Political Equality and serves on both the San Diego State University President's Latino Advisory Council and the UC San Diego Chancellor's Community Advisory Board. She is a past board member of LEAD San Diego and completed a LEAD program in 2011.
A 2017 graduate of the LEAD San Diego IMPACT program, Blanca Livier Uribe Díaz, is slated to receive the Charles Nathanson Memorial Award for Cross-Border Region Building, named for the late champion of cross-border communication and development.
Uribe is vice president of Club de Béisbol Toros de Tijuana, and acts as the ambassador of the team at public and social events, encouraging social awareness between the club and the community. She is an alumna of the Harvard Business School of Executive Education Program and a member of LEAD's San Diego Young Leaders. She has served a term on the executive council of Coparmex Tijuana; on the San Diego Museum of Art development committee and chaired SDMA's Art Alive Bloom Bash; co-chaired Ronald McDonald House's Día de la Alegría Brunch; and volunteered with Miracle Babies.
Another honoree, the recipient of the 2018 Community Spotlight Award, which recognizes grassroots community heroes, will be announced at the Visionary Awards event.
Tickets can be purchased by visiting sdchamber.org/event/visionaryawards2018.