Sirenas Inks Research Partnership with Bristol-Myers Squibb
Monday, February 12, 2018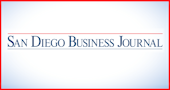 Sirenas, a marine-centric biotech in San Diego, has entered into a research agreement with pharmaceutical giant Bristol-Myers Squibb.
Bristol-Myers Squibb will deploy Sirenas' platform, Atlantis, in hopes of identifying drug candidates. Atlantis leverages machine learning and data-mining to analyze thousands of marine molecules for therapeutic leads.

Sirenas will receive an upfront payment for an undisclosed amount, research funding and potentially fees for achieving partnership goals. In addition, Sirenas would collect milestone and royalty payments if Bristol-Myers Squibb exercises an option to license compounds that result from the partnership.
"We believe science-focused biopharma companies can benefit from our innovative approaches to access breakthrough chemistry in delivering drug candidates for difficult biological targets," said Jake Beverage, CEO of Sirenas.
Sirenas has secured $1.68 million from the Bill & Melinda Gates Foundation to discover potential therapies to treat infectious diseases. A chunk of that funding was announced in December.