ECONOMY: IT SAYS 8 NEW SITES SET FOR 2018, DEMAND REMAINS HIGH
Carlsbad Site Start of Big Plans for Coworking Co.
Monday, February 12, 2018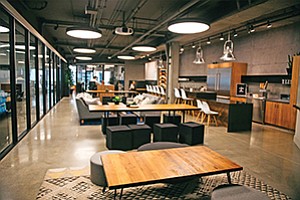 San Diego — One year after coworking space CommonGrounds Workspace made its debut in Carlsbad, the business said it plans to open eight new sites in 2018, including one in downtown San Diego.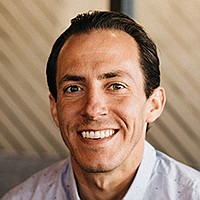 Jacob Bates, the company's executive director and chief operating officer, said by year's end CommonGrounds intends to debut six new sites in California, one in Colorado and one in Utah.
The Carlsbad site is within Pacifica Enterprises Inc.'s BlueWater Crossing 66-unit live-work community, adjacent to the Poinsettia train station. The Rancho Santa Fe-based real estate investment company is involved in CommonGrounds' expansion, although Bates wouldn't divulge any specifics about the company's investors.
CommonGrounds' second location, and first outside of the state, is slated to open in Denver in summer. Also in the summer the company says it will open sites in Long Beach and San Jose. Locations in Burbank and Salt Lake City are planned for fall. Sites in downtown Los Angeles and in downtown San Diego are scheduled to open in winter.
Members of CommonGrounds will have access to all its sites, Bates said.
The Amenities
Like at the Carlsbad location, Bates says the new CommonGrounds sites will have amenities including access to freshly prepared food at on-site cafes, conveniences for downtime (such as the boats, surfboards and bicycles to which members in Carlsbad have access) and a fleet of shared cars.
In Carlsbad, the 12,000-square-foot space, including outdoor areas, has 35 communal seats, 26 private offices and 24 private desks. Communal desks run $200 per month; a personal desk, $500; and offices, $750.
Flexible and serviced office space has been around for decades, but coworking companies have found recent success by offering more creatively branded, programmed and designed places to work.
A report published by commercial brokerage company CBRE Group Inc. in 2016 said investors are valuing such companies more like tech startups than real estate firms.
Investor Confidence
"Projections of untapped market share for coworking space usage have boosted investor confidence in co-working startups," the report said.
WeWork, the largest coworking company in the world, last year raised a Series G financing round of about $760 million, increasing the startup's already heady valuation to an eye-popping $20 billion.
"I don't think any of us have a crystal ball as to what's coming, but the attractiveness of this flexible work environment I think we all believe, is really here to stay," said Andrew Ewald, a vice president with CBRE. "More and more traditional corporations will start to leverage these coworking sites – if they want to grow their business, enter new markets, if they have a product launch — instead of committing to a long-term capital investment for real estate."
Membership Roll
In Carlsbad, among the 170-odd CommonGrounds members are Nxtgen Search, a recruitment startup; Lettuce Box, a company that makes software that tracks and measures the impact of temperature on food in transit; and the campaign of congressional candidate Sara Jacobs.
Bates, who joined CommonGrounds in summer of 2017 from San Francisco-based software company Unity Technologies, where he oversaw the company's real estate and workplaces, said CommonGrounds aims to offer spaces designed to ensure both productivity and pleasure.
"When we looked at (the coworking industry), we saw a bit of a gap, and we felt what was missing was something where you're … providing a space where people from all walks of life and industries can come together and share that experience and building a community together," he said. "It's easy to design a space and make it beautiful from a sight perspective. We're focused on your sight, your hearing, your taste and your touch, and making sure all those senses are taken care of and accounted for, so when you come into the space, you're not distracted."