Dexcom CEO Is 'Gadget Guy' Who Emphasizes Human Side, Grows Co.
Sunday, February 11, 2018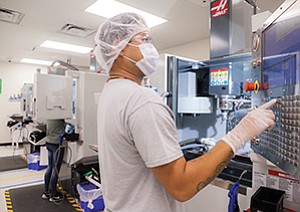 San Diego — Seated beside an oval table in his office, Kevin Sayer squints to read a text on his phone. His blue eyes — the same color as his button-down shirt – light up.
"I just have to show you this," says the CEO of San Diego's Dexcom.
Sayer leans across the table, displaying a message forwarded by an employee. A parent wrote to share newfound relief after outfitting their diabetic 6-year-old with a Dexcom device.
"I love this thing. I slept better than I have in a month. Thank you so much," the message reads.
Dexcom's smartphone-linked monitors enable diabetes patients and caregivers to quickly act in case of dangerous blood sugar levels.
Under Sayer, the company keeps rising. Dexcom estimates 2017 revenue was about $715 million, or 78 percent higher than 2015 when he took the helm, and a 984 percent increase from 2011, the year he joined the company as president and chief operating officer.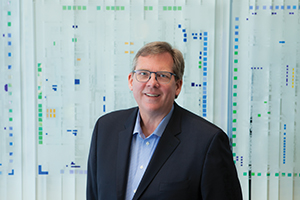 For him, the company's mission is personal.
"I got into the diabetes industry originally as a business guy," Sayer said. "So I did not have a patient connection when I started down this path. You get it very quickly."
International Markets
At Dexcom, optimism abounds with meteoric growth in international markets, and a new partnership with UnitedHealthcare to potentially enter the Type 2 diabetes market. On the flip side, stiff competition recently surfaced with regulatory and reimbursement approval of Abbott Laboratories' glucose monitoring product.
But competitors don't faze Sayer. So said Michael Kleine, the former CEO of Biosensors International, where Sayer was CFO from 2007 to 2010.

"When a competitor comes in, the tendency of a lot of companies and CEOs is to say, 'Oh my God what do we do?' Kevin has got the knack of saying, 'What do they not want us to do?' And knows how to look long term, which is a cliché, but something few do well. For him, I'm sure he's looking at Dexcom's moves in 2019," said Kleine.

Tapping the Human Resources
He added a major strength of Sayer was seeking input everywhere, from boardroom executives to sales staff to the maintenance crew.
"That's just the way he operates. If you worked at Biosensors, eventually Kevin Sayer got to know you and you got to know Kevin."
This trait appears to extend to Dexcom patients. Sayer recalled meeting with a 12-year-old diabetic who presented the company with a detailed list of areas that need improving, like Bluetooth frequencies. It was good advice, he said.

Similarly, Sayer has sought to put patients at the forefront of employees' minds. Diabetics regularly recount their experiences with company products — good and bad — at townhalls broadcast to employees. And to drive home functionality, Sayer and employees wear prototype devices, even if like Sayer they don't have diabetes.
"I ask most patients when I talk to them, 'Tell me what we can do better?'"
Sayer said these traits — long-term vision and obtaining multiple perspectives — can be traced to his father, who ran the family auto dealership in Idaho Falls, Idaho.
"He could see bends in the economy way in advance and I learned from that," said Sayer. His parents still impart lessons. Sayer, 60 years old this month, noted with a chuckle that his mom has a tendency to critique his interview performances on cable news segments about Dexcom.
In his late teens, he gave thought to joining the family business, but he wanted to venture beyond Idaho, and technology called to him.
Interests Merge
"I figured out pretty quick in college if I can merge technology, my business acumen and numbers, that would be the place for me to go," said Sayer, who holds a master's degree in accounting and information systems from Brigham Young University.
After college, he worked in public accounting. But he got a chance to marry a love of gadgets with finance at his second job as the CFO of MiniMed, a diabetes management company that was acquired by Medtronic in 2001.
A mentor there was Terry Gregg, who later became the CEO of Dexcom, and in 2007 recruited Sayer for the company's board.
Back then, the company began talking an ambitious goal: the continuous display of glucose levels on a smartphone.
"We said, 'If we can get this thing to go to the mobile phone, that would just be the end all be all thing we could do,''' Sayer said.
FDA Approval
Slowly, Dexcom inched closer. Then, in 2015, an industry milestone: the U.S. Food and Drug Administration approved Dexcom's G5. A sensor — typically on a patient's abdomen — continuously measures glucose just below the skin, and a transmitter relays glucose level data every five minutes to a smart device.
Traditionally diabetics relied on finger-stick measurement, but that only shows glucose levels at a point in time, and they can't test when exercising or sleeping. In addition, G5 alerts patients when levels are dangerously high or low. System data — which can be shared with friends or family — also shows trends to better manage the disease.
Most who wear Dexcom devices have Type 1 diabetes, the more severe kind in which patients are often insulin dependent. Last month, Dexcom announced a partnership with UnitedHealthcare to gauge the effectiveness of continuous monitoring for Type 2 diabetes.
But Dexcom isn't alone in the market. In January, Abbott Laboratories' Freestyle Libre won Medicare coverage, a few months after a sooner-than-expected green light from the FDA.
Dexcom's G5 was the first to obtain these approvals. But Freestyle Libre has a feature Dexcom's device doesn't: no requirement to draw blood via a finger prick for calibration.
It's a head start, since Dexcom's Gen 6 sensor — expected to receive FDA approval this year — also doesn't involve finger pricks.
Sharing the Readings
Sayer said the company has successfully competed against Libre outside of the U.S. for years, and that only Dexcom has features like the ability to remotely share glucose readings with friends, family and caregivers.
"In countries where we have reimbursement, the reimbursement authorities recognize the benefits of our system: the continuous data, alerts and alarms, and the ability to share," he said.
Jayson Bedford, an analyst with Raymond James & Associates who covers Dexcom, said the company's technology gives it the edge. Either way, the market is vastly under-penetrated.
"Of the people in the type 1 diabetes (category) in the U.S., roughly 20 percent of them have converted to CGM (continuous glucose monitoring) technology. The rest are doing finger sticks. This is a big market, and one that's a large enough opportunity for multiple players," Bedford said.
Asked about Sayer's imprint on the company, Bedford said he has an understated personality compared with his predecessor, Gregg. Initially, this gave investors pause. Yet later Sayer's passion became clear.
"Kevin has done, at least from my perspective, a great job driving the business and pushing the R&D initiatives forward," Bedford said.
Emphasis on R&D
Sayer chalked up the emphasis on research and development to "being a gadget guy." Three quarters into 2017, the most recent results available, Dexcom spending in the area was $136.7 million, 21 percent higher than the same period the prior year.
In response to what he would have done differently at Dexcom, he said products could have made it to market sooner, and obtaining them should have been easier.
"I beat myself up sometimes on what I could have done as a leader to get this stuff done quicker. As a medical device company, it's always convenient to blame everything on the FDA. But the question is: Could we have done some things different?"
That said, the path forward wasn't always clear since Dexcom was early in the market.
"We've not only created an industry from a technology perspective. We've had to create an industry with respect to people paying for it, too," he said.
But he's confident Dexcom will make the industry more accessible by shrinking device sizes, lowering costs and improving readouts.
"I'm more optimistic about it today than what I got here. I don't think we've begun to peel the onion yet. I think there are so many things we can do, to enhance people's lives, to make health care better and really take care of our shareholders and our employees. I think the future is extremely bright here."
DEXCOM, INC.
CEO: Kevin Sayer
Revenue: $715 million in 2017 (unaudited)
Headquarters: Sorrento Valley
Year Founded: 1999
NASDAQ symbol: DXCM
Key Factors For Success: Dexcom pioneered continuous glucose monitoring technology for diabetics. In December 2016, Dexcom's G5 technology was the first in the space to qualify for Medicare reimbursement.