Co. Opens Location and Opens Its Heart With Donation
Sunday, February 11, 2018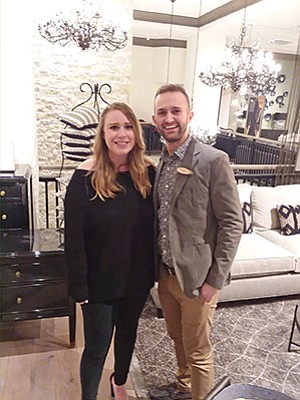 San Diego — Arhaus LLC, a nationwide home furnishings company, donated $16,921 to Promises2Kids. Arhaus selected Promises2Kids as its charity of choice to receive 10 percent of sales during its recent grand opening event at Westfield UTC.
Promises2Kids, a San Diego-based nonprofit with a focus on foster care and children's welfare, provides more than 3,000 current and former foster youth in San Diego County with the tools, opportunities, and guidance they need to address the circumstances that brought them into foster care, overcome the difficulties of their past, and grow into healthy, happy and successful adults.
Tonya Torosian, CEO of Promises2Kids thanked Arhaus and said: "It is because of companies like Arhaus and charitable members in our community that we can continue offering programs that benefit current and former foster youth in San Diego County." Visit promises2kids.org.
• • •
Dr. Bronner's Magic Soaps, a Vista-based family owned maker of a natural brand of soap in North America, was the title sponsor of the 1 Wave Challenge & Beach Run held recently to benefit fundraising efforts for Boys to Men Mentoring Network. The company has long financially supported the Boys to Men Mentoring Network, which seeks to guide and support at-risk boys and those without a father in their lives on their journey to manhood. By sponsoring this event, and providing free product samples to attendees at its booth on site, the company hopes to attract more participants to the 1 Wave Challenge, and raise awareness and support for the Boys to Men Mentoring Network's important work. Visit boystomen.org.
• • •
The Scripps Research Institute announced that the Skaggs family has made a lead gift through their foundations toward TSRI's $100 million campaign to establish fellowships for all students in its graduate program. In recognition of this gift, the program will be renamed the Skaggs Graduate School of Chemical and Biological Sciences.
The Skaggs family's gift will make it possible for individual supporters of the graduate program to donate $500,000 that will then be supplemented by an additional $500,000 from The ALSAM Foundation (a Skaggs family foundation founded in 1984) and the Skaggs Foundation for Research to create a $1 million endowment for an individual named student fellowship.
Beginning in the 1980s, food and drugstore pioneer L.S. "Sam" Skaggs and his wife, Aline, began making numerous financial gifts to the institute, including underwriting the construction of The Aline W. & L.S. Skaggs Nuclear Magnetic Resonance Spectroscopy Center. In 1996, their commitment of $100 million — at the time, one of the largest gifts ever to higher education — created The Skaggs Institute for Chemical Biology.
Prev Next