Former Arcturus CEO Is Challenging His Termination
Thursday, February 8, 2018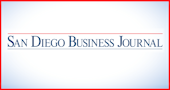 Joseph Payne is challenging the legality of Arcturus Therapeutics firing him as president and CEO of the company, according to a Feb. 6 letter filed with the U.S. Securities and Exchange Commission.
The letter, from a law firm representing Payne, demands that the San Diego company reverse the decision and reinstate him. It claims four board members passed a resolution terminating Payne without such authority, and then presented the resolution at a board meeting despite it not being on the agenda.
Payne wasn't invited to the meeting, and was later physically removed from the company premises, the letter alleges.

"The four directors are not acting in the best interests of the company, and are in fact acting to seize control of the company and thus advance their personal and conflicting interests," states the letter.
Arcturus reported Feb. 2 that its board terminated Payne and named Mark Herbert as interim president. The company did not disclose why Payne was fired, only that the announcement is "not related to Arcturus' operational performance, ongoing programs, financial condition or financial reporting."
A Feb. 6 company statement went into further detail.
"Mr. Payne has demonstrated that he is unable to put the needs of the company and its shareholders ahead of his own self-interest," it said. "Our board of directors and management team are committed to acting in the best interest of shareholders and enhancing long-term value for all shareholders, and we will continue to take the actions that we believe will enable us to achieve this objective."
The firm Barnea, Jaffa, Lande & Co., which is representing Payne, did not return a request to comment.
Tension appears to have been related to Arcturus three months ago merging with Alcobra, previously based in Israel. The letter claims poor corporate governance ever since the deal.

The merger provided Arcturus with capital — the combined companies in November had net cash of about $50.1 million — for use in funding research and development of RNA medicines in areas such as liver and infectious diseases.
Arcturus essentially took over, as Alcobra moved to San Diego and Arcturus executives led the company.
Payne founded Arcturus in 2013, according to his LinkedIn page.
Herbert, who will take over immediately, joined Arcturus in 2015, having previously served as vice president of business development and alliance management.