Bank Outgrows Name, Keeps Commitment to Communities
Sunday, February 4, 2018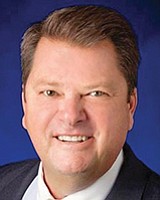 San Diego — San Diego Private Bank, the locally based institution with branches in three counties, is renaming the company CalPrivate Bank.
The bank has been expanding recently, and CEO Tom Wornham said the new name is meant to reflect its broader geographic ambitions.
Headquarters will remain in La Jolla, and each bank will retain a reference to its geographic location as part of the rebranding.
In addition to its La Jolla site, the bank has branches in Coronado, downtown San Diego, Newport Beach and Beverly Hills. The bank also has a division in San Marcos called Private Business Capital.
"We go from the Mexican border to Beverly Hills," Wornham said.
Parent company Private Bancorp of America Inc. aims to expand throughout coastal California.
Not having one overarching name for its branches was getting cumbersome, Wornham said, and feedback from focus groups revealed that sentiment was shared.
"Everybody said they would prefer to have one name," he said. "Then we went into figuring out the best name to use to really say who we are, and at the same time make sure nobody thinks we've been sold or have merged."
Last year, the bank opened its first branch in the Los Angeles area. The bank, in Beverly Hills, was called Private Bank of America as the companywide rebranding was in the works.
Keeping a reference to each branch's location on the new signage, slated to go up by the end of the first quarter, is intended to honor neighborhoods in which the branches have operated.
"To me, that's the best of all worlds, because we can have the synergies of one name, while not giving up the history of communities," he said. "We're not changing anything in the way we deliver the product or the people who are delivering it."
Wornham says the bank looked at more than 300 potential names throughout the rebranding process.
"The California footprint makes sense to me," he said. "I only want to rebrand once, and I think the name CalPrivate can travel."