Poway-Based Electrical Testing Equipment Co. Acquired by PE Firm
Thursday, February 1, 2018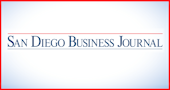 Vitrek LLC, a Poway-based manufacturer of electrical safety test and measurement equipment, has been acquired by a private equity firm in New York.
The acquisition, by Branford Castle, was the fourth the firm made out of its fourth fund, which closed in late 2016. Financial terms were not disclosed.
San Diego-based merger and acquisition investment bank PierCap Partners advised Vitrek on the transaction.
Branford Castle typically takes controlling interests in companies with pretax earnings of less than $15 million and a leadership position in a niche industry.
Vitrek, founded in 1990, has significant U.S. market share, with most of its competitors operating overseas, the PE firm said in a news release.
After a transition period, Vitrek CEO and cofounder Kevin Clark will retire. Don Millstein, who previously led another manufacturer, E-Mon, after it was acquired by Branford, will take over as CEO.
Reach finance and startups reporter Sarah de Crescenzo at sarahd@sdbj.com.