Philanthropy: Cavignac Employees' Contributions Help Ensure a Healthy, Happier Community
Sunday, December 23, 2018
As part of a 19-year-long holiday tradition, employees of Cavignac & Associates, a San Diego-based risk management and insurance brokerage firm, donated to those less fortunate in the community, giving more than $21,000 out of their own paychecks to a number of local nonprofit organizations. The $21,000-plus worth of donations represents a 17 percent increase over what the company's employees donated last year. The employee donations were in addition to substantial donations made by the company during 2018.
This year, the employees of Cavignac & Associates directed monetary contributions to 17 organizations including, but not limited to, Challenged Athletes Foundation, Emilio Nares Foundation, Feeding San Diego, the Monarch School and the San Diego Humane Society. In addition to making monetary donations to 17 charities, Cavignac & Associates' employees once again participated in the SAY San Diego "Adopt A Family" program by sponsoring three families.
Kelly Potter chaired the Cavignac & Associates Employee Charity Fund Committee in 2018, while Marisa Dunfee served as secretary. Other committee members included Ariana Benavente, Bonne Mongold, Brittany Aceves, Carolyn Konecki, Chris Malicki, Dan Smith, Erin Green, Jolinda Kramer, Kathy Majam, Linda Lopez and Darcee Brackett. Visit cavignac.com.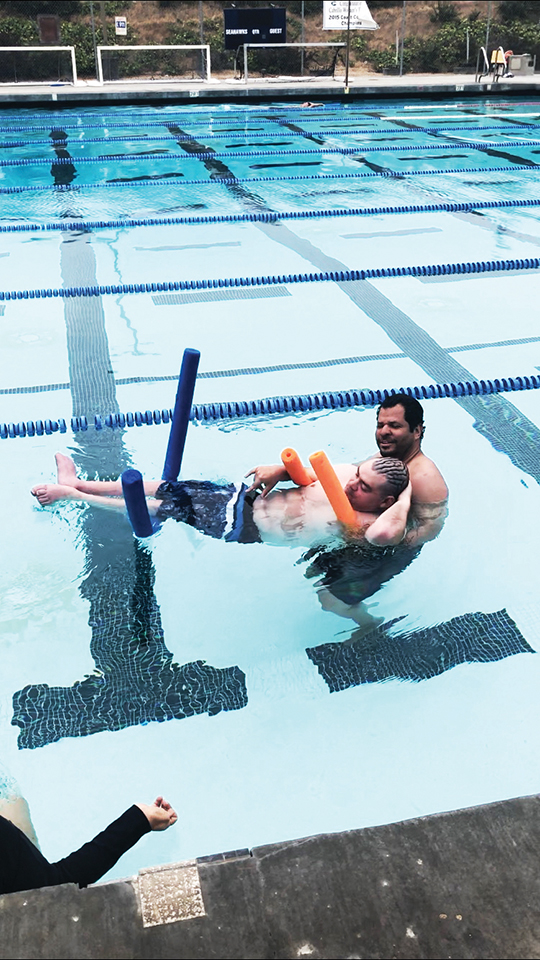 Foundation's Gift Brings Treatment, Training to Those With Disabilities
The Safeway Foundation awarded $10,000 to Options For All for service in the communities served by the foundation. The grant was made possible through the People with Disabilities campaign. Safeway collected donations at check stands in stores, generating at total of about $1 million to assist people with disabilities.
Wendy Gutshall, director, public and government affairs at Safeway said: "The money collected helps nonprofit organizations that are at the forefront of providing assistance to people with disabilities in the following areas: sending children to camp, increasing access to specialty services and employment training, increasing access to care and treatment."
Founded in 1985, Options For All serves individuals with intellectual and developmental disabilities, helping empower them to become fully-participating members of their communities. The organization serves as many as 1,300 individuals who face the challenges of autism, cerebral palsy, Down syndrome, hearing and vision impairments, learning and intellectual disabilities and severe behavioral disorders.
Nancy Batterman, CEO of Options For All said: "We're truly honored to receive this grant from the Safeway Foundation. Options For All seeks to create and support opportunities for adults with intellectual and developmental disabilities in making choices to live and enjoy life in their community with dignity and respect." Visit optionsforall.org.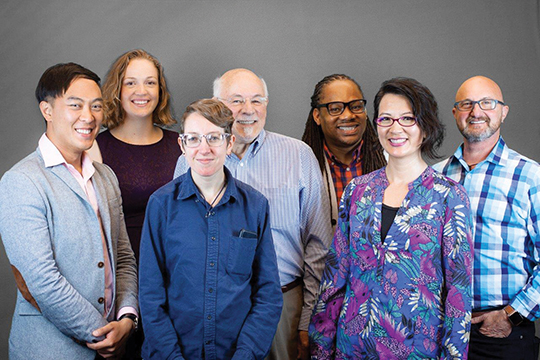 Gift, Scholarships Aim to Promote Education and Service
The holiday giving season has started early for Alliant Educational Foundation, which already this year has awarded $1.75 million in scholarship support for students in need. A total of 800 scholarships have been awarded by the San Diego-based nonprofit foundation for this school year, providing financial aid for disadvantaged students throughout California striving toward public service and community leadership careers.
Today, AEF has announced a $1 million gift from retired Alliant International University administrator and professor Connell F. Persico for an endowed scholarship program to provide financial support to LGBTQ students.
AEF CEO Valin Brown said: "This gift adds to the impact of the existing Connell Persico Scholarship, which shares Alliant Educational Foundation's goals of boosting diversity, equity and inclusion."
Persico, 74, now retired from Alliant International University — after 35 years at Alliant and its precursor, the California School of Professional Psychology — and residing in the Sacramento area, said that this endowed scholarship will continue to help LGBTQ students pursuing careers of service at the graduate level knowing they can do so with strong financial backing. He added, "They can focus on honing their skills and advancing their knowledge instead of worrying about how to pay off debt for the rest of their lives." Visit allianted.plannedgiving.org.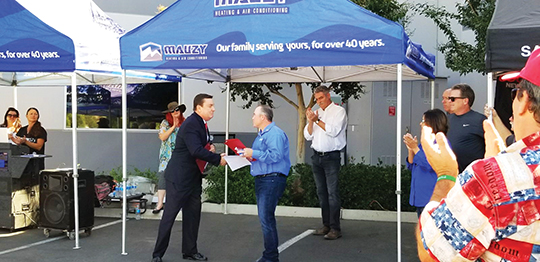 Mauzy Salutes Veterans and the Flag
Recently, Mauzy Heating, Air & Solar showcased its 140-foot flagpole at its corporate headquarters — the tallest flagpole in all of East County — to honor active duty military and veterans of the community. The company raised more than 3,000 pounds of canned goods and donated $10,000 in gift certificates to support the San Diego Food Bank military initiative for the month of November.
Members of the community came out in support of the event, providing an amazing 2,693 meals to those in need. Additionally, 600 pounds of canned goods were donated by the public as well as an additional $440 raised online and onsite.
San Diego Food Bank President/CEO James Floros said: "We are grateful for the opportunity to partner with Mauzy in support of the tens of thousands of military families we serve every month throughout San Diego County,"
The winners of the $10,000 in gift certificates included two military veterans and an active duty member, nominated by the public. The winners were announced by LaDona Harvey co-host of San Diego's "Morning News" on KOGO. El Cajon Councilmember Steve Goble was also there to thank all those who serve our country.
Matt Mauzy, owner and president of Mauzy Heating, Air & Solar said: "We wanted to show our appreciation for those who have served and are currently serving in the military and what better way than to erect a flagpole in their honor." Visit mauzy.com and sandiegofoodbank.org.