Local Economic Forecast for 2019
Sunday, December 23, 2018
International Changes: Tax Reform touted a simplification in the international tax regime by switching to a "territorial" system. However, the introduction of secondary taxes like Global Intangible Low-Taxed Income (GILTI) and the Base Erosion and Anti-Abuse Tax (BEAT) have created a much more complex compliance exercise for tax professionals. Offsetting this is the Foreign-Derived Intangible Income (FDII) benefit to U.S. companies on deemed income from intangibles to offshore customers, and one thing is very clear: tax reform targeted intellectual property (IP) with the purpose of keeping it here in the United States (or bringing it back). As a result, many of our growing San Diego startups are wondering about structure, IP location and related matters, making the landscape more complicated. The "old ways" of doing things are no longer necessarily the best.
Employee Attraction and Retention: With changes from tax reform and the expected compliance workload in the upcoming year, it has become more and more important for companies, whether CPA firms or companies with internal tax departments, to do what they can to retain their top talent and attract the right individuals to their workforce. The competition is fierce. Oftentimes it's simply not enough to provide compensation packages to employees in line with the market. In this current economy, it is equally important for both companies and employees to consider company culture, leadership and growth potential.
2019 promises to be an exciting year as companies and individuals continue to navigate the changes put into place with the Tax Cuts and Jobs Act.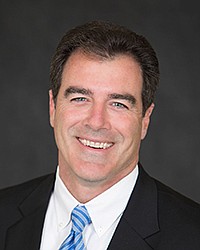 Brett Good
Senior District President of Professional Staffing Services
Robert Half, Southern CA,Arizona, Nevada & Utah
Brett Good is senior district president for Robert Half. He is responsible for overseeing operations for the company's Accountemps, OfficeTeam, Robert Half Finance & Accounting, Robert Half Management Resources, Salaried Professional Services and Robert Half Healthcare Practice divisions throughout Southern California, Arizona, Nevada and Utah.
Good joined Robert Half in 1999 and has more than two decades of experience in staffing service management and consulting, specializing in core process re-engineering, financial turnarounds and business reorganization. Good holds a master's degree in finance from St. Mary's College in Moraga and a bachelor's degree in international business and marketing from San Francisco State University.
What Good will be talking about at the 2019 Economic Trends event:
Job Market Overview
More than 1 million jobs have been created in 2018, reducing the pool of available talent and increasing the already high demand for topnotch professionals across the U.S.