2018 NEWSMAKERS
Illumina Makes Statement with $1.2B Acquisition
Sunday, December 23, 2018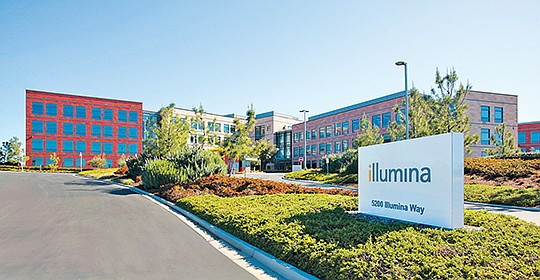 Locally, billion dollar deals normally end with a San Diego firm being acquired. Tell that to Illumina.
In October, the company agreed to buy Bay Area-based Pacific Biosciences for $1.2 billion, a move analysts say will fortify Illumina's genomics dominance.

Illumina's "short-read" platform deciphers fragments of DNA and reassembles them, while Pacific Biosciences specializes in decoding lengthier DNA chunks. This will give Illumina a more complete view of the genome.
Another acquisition earlier in the year provided the company with a need for speed.
Illumina bought San Diego-based Edico Genome for $100 million, helping Illumina to quickly analyze the ever-growing amounts of data generated by its sequencers.
That could mean, for instance, faster test results for a doctor deciding on the best course of care.
Besides acquisitions, rising sales pumped up Illumina's stock. Its shares traded at $313.58 on Dec. 19, up almost 40 percent from year's beginning.
With new frontiers opening up in genomics, ex-Illumina executives have formed their own companies. Most of at least nine local upstarts with an Illumina pedigree have surfaced in the last two years, as covered in a September San Diego Business Journal article.