City Will Have to Revisit Short-Term Rental Issue
Sunday, December 23, 2018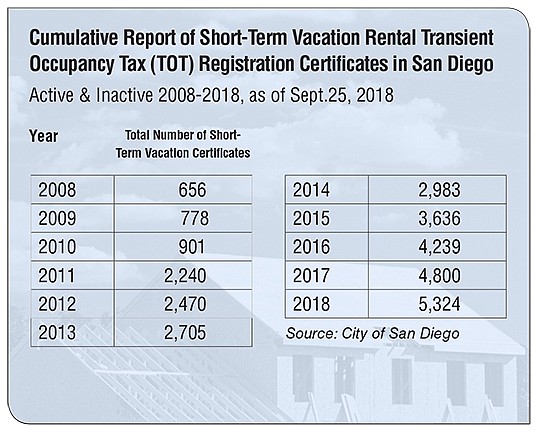 The city of San Diego in 2018 finally addressed the issue of short-term rentals only to have that progress upended by opponents.
In mid-July, after pressure from residents in certain high-volume short-term rental communities and the California hotel lodging industry, the San Diego City Council voted to outlaw vacation rentals in secondary homes, limiting short-term stays to the host's primary residence for up to six months a year.
The regulation called for all short-term rentals of entire homes to be subject to a licensing fee of $949 annually, which is believed to be the highest in the country; short-term rental hosts to pay a housing fee of $3.96 per night for whole home rentals and $2.73 per night for single room rentals; and Airbnb and Homeaway to be required to pay stiff penalties if the online vacation rental marketplace companies fail to ensure their hosts are registered.
Despite protests by those in support of the home-sharing industry and demands from both Airbnb and Homeaway for a new hearing in early August, the council reaffirmed its decision.
In response, proponents of short-term rentals, including the Share San Diego coalition, gathered and submitted enough verified signatures for a referendum, and the council voted to rescind the ordinance.
Now, the city has the legal right to adopt a new set of regulations within a year, but, those rules have to be significantly different from the ones that were repealed.