San Diego Has Second Lowest Unemployment Rate Among State's Metro Areas
Thursday, December 20, 2018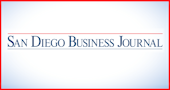 San Diego has the second-lowest unemployment rate among California's metro areas this year from July through September(Q3), according to a recently-released report by the San Diego Regional Economic Development Corp.
San Diego's third quarter unemployment rate came in at 3.2 percent, down from 3.7 percent in the second quarter. San Francisco was the only other metro area in the state to come in lower than San Diego at 2.5 percent, making it the lowest among the top 25 metro areas. Riverside came in at 4.1 percent and Los Angeles at 4.3 percent.
The 0.5 percent decrease positions San Diego as the city with the 10th lowest unemployment rate among the 25 most populous metro areas in the country, a list that includes Minneapolis, which came in at No. 1 with 2.2 percent.
The leisure and hospitality sectors lost the most jobs in the third quarter in San Diego, with 2,300 jobs lost, the data shows. Professional and business services and educational and health services had the two largest year-over-year gains, increasing by 15,800 and 5,600 jobs, respectively. Registered nurses continue to top the chart this quarter, with 5,260 unique job postings.
On the flipside, the report also shares that San Diego had the second most-expensive housing market in the nation in Q3. The median home price in the city is $650,000, second only to San Francisco, which has a median home price of $989,000 in the third quarter.
On a national level, San Diego's venture capital deals, worth nearly $907 million, placed the city sixth in Q3 out of the 19 U.S. regions tracked as far as VC dollars received is concerned. Overall, the region's VC investments increased 69.3 percent compared with Q2, the highest total in nearly a decade. When compared with the same time last year, VC investment in the region went up 63.5 percent. The health-care sector received the majority of VC in the third quarter, with a total of $761 million.
For the rest of the report, click here.