For Burger Lounge, Product and Preparation Should Only Make It Look Easy
Monday, December 17, 2018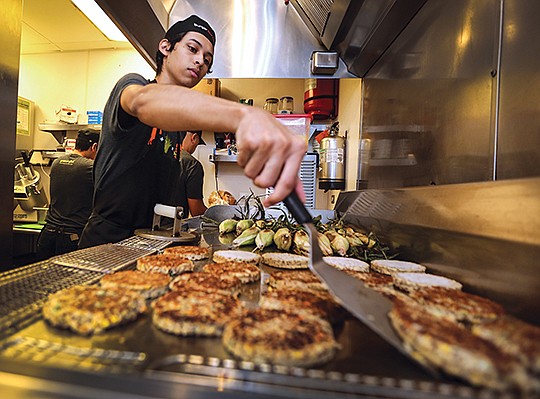 BURGER LOUNGE
CEO: J. Dean Loring
Revenue: $39M in 2017 (approximately 15 percent increase projected in 2018)
No. of employees: 650
Headquarters: Little Italy
Year founded: 2007
Company description: A fast-casual restaurant chain that specializes in grass-fed beef hamburgers.
The acronym is K.I.S.S. Or, "keep it simple, stupid." But, simple doesn't necessarily mean easy. Just ask Burger Lounge's President and CEO J. Dean Loring.
The Burger Lounge concept may appear rather uncomplicated — a 10-item menu that includes grass-fed burgers, fresh-made French fries and onion rings, shakes and salads that are made with locally-sourced ingredients and organic products. But Loring, who founded the company in 2007 with then-partner Mike Gilligan (who still has ownership), says it is this seemingly uncomplicated model that has made the business challenging.
This is so because using whole food ingredients is a lot more complicated than using pre-portioned or frozen products, he says, making it even more difficult when that exact method has to be replicated across a number of restaurants.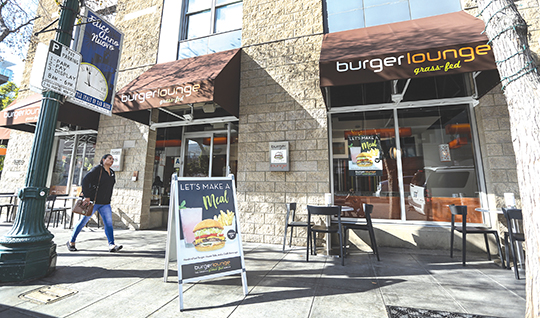 'We Love Simple'
"It is simple and we love simple," Loring said, "but, making it right every time while utilizing whole food ingredients is our constant challenge."
Despite its difficulties, this "simple" approach has been the bread and patty of Burger Lounge's success. The company, which started with one location in La Jolla in 2007 and uses the tagline "the original grass-fed burger," has since grown to 25 company-owned properties, 24 of which are in California, nine of those being in San Diego; there are eight Burger Lounges in Los Angeles, four in the Bay Area, two in Orange County, one in Inland Empire and one at Aria Resort & Casino in Las Vegas. In 2017, the company's revenue was $39 million, according to Loring, and is projected to grow by 15 percent in 2018 and by another 15 percent in 2019.
"The concept is to create a hamburger guests feel good about eating — a hamburger that is simple and crave-able but utilizes healthier ingredients like fresh, domestic, grass-fed beef and California-made cheeses made from organic, grass-fed milk," said Loring about the Burger Lounge vision. He says the company also wants to provide vegetarians with a "proprietary" vegetarian hamburger along with clean salads and fresh side items. It's just a 10-item menu, he says, but it is generally executed at a high-level.
Loring says Burger Lounge favorites are the "Lounge" burger, which has organic American cheese, onions, shredded lettuce, tomato, pickles and 1000 island dressing; and the "Classic," which features organic American cheese, Organic ketchup, mustard, pickles and chopped onions. "The hamburger is a food art form," said Loring. "It juxtaposes flavors, textures and temperatures. It's visual and it is sensual."
'Genuine' Guest Services
Loring also credits the company's likability and profitability to its "genuine" guest services style as well as its relationship with its suppliers, which he says have been forged over several years.
He said after Burger Lounge opened its fourth restaurant, Connecticut-based private equity firm, KarpReilly LLC, approached the company offering to invest. The investment helped his chain of eateries with the necessary resources to continue to grow. Loring declined to say how much KarpReilly invested or what percentage stake the firm has in his restaurants.
Miro Copic, a marketing professor at San Diego State University, says Burger Lounge is the perfect burger chain for Southern California because of its clean approach, among other characteristics.
"The grass-fed beef and the overall eco-friendly appeal is a big plus," he said. "It already has the health angle and it tastes good — that is half the battle right there for these guys." Burger Lounge won't just work in San Diego, he says, it could probably be successful anywhere considering how health-conscious people are nowadays. Copic adds the company's name is cool and distinctive and the idea of a "lounge" makes it seem interesting and fun.
'Robust Growth'
2019 will be a year for preparing for "robust growth," said Loring, adding the company is actively right-sizing its general and administrative expenses in order to accelerate revenue in 2020, for which he anticipates a 20 percent growth. He adds Burger Lounge will be opening several restaurants in late 2019 and 2020 and projects a 25 percent revenue growth annually at that point.
Shoring Up Your Own Weaknesses
"2018 was about building the right team to support that growth," he said, adding that finding the right people is challenging in itself. "Building the right team to shore up your own weaknesses is perhaps one of the greatest lessons." For that same reason, he doesn't foresee franchising in the company's future. It is difficult enough to manage one team, he says, let alone a group of franchisees.
Burger Lounge's rustic headquarters in Little Italy, next door to Born & Raised and above Barbusa restaurants, hosts family lunches for corporate employees and a yoga session weekly. Loring, a Sonoma native who opened a hamburger-centric restaurant in Northern California in his 20s, has long been health conscious.
"Although I am not new to this industry, I have always believed that if you can offer a decadent and familiar food while making people feel better about eating it, it is a recipe for success," he said.