Evofem's Stock Rises on Positive Late-Stage Trial Data
Monday, December 17, 2018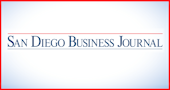 Shares of Evofem rose on Dec. 17 after the company reported that its birth control gel worked as intended in late-stage clinical trials.
The San Diego company's stock traded at $4.03 mid-morning, a 15 percent jump over the previous close. Shares spiked as much as 38 percent earlier in the day.

Its hormone-free gel, amphora, regulates vaginal pH in a range that's inhospitable to sperm as well as certain viral and bacterial pathogens known to cause sexually transmitted infections.
More than 16.5 million women in the United States don't use a contraceptive, including because of hormonal side effects, according to the company.
When used as directed, amphora had a 98.7 percent efficacy rate in preventing pregnancy in phase 3 trials, a rate similar to other common contraceptive methods. Factoring in a sliver of women who incorrectly used amphora, the efficacy rate was 86 percent. Minimal side effects were reported, Evofem stated.
"These benefits will encourage many women who do not use birth control to reconsider their approach to managing their reproductive health," Dr. Bassem Maximos, a principal investigator for the study and an obstetrician-gynecologist, said in a statement.
The company plans to ask the U.S. Food and Drug Administration for the OK to sell the drug in the second quarter of 2019. If approved, the drug would be available by January 2020.