Seven San Diego Companies went Public in 2018
Thursday, December 13, 2018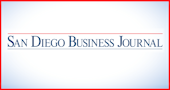 San Diego saw its strongest year for initial public offerings since 2014, with seven companies making the jump to go public in 2018.
Nationally, the number of IPOs grew year-over-year, despite market volatility. A total of 205 U.S. companies went public in 2018, up 14 percent from last year, according to Ernst & Young LLP's IPO report for the fourth quarter of 2018. The IPOs brought in combined proceeds of $52.84 billion, up 31 percent from 2017.
"In recent history, it's as strong as it's ever been," said Tim Holl, a principal in Ernst & Young's San Diego office. "Our best year was 2014. We had eight that year. … It's turned out to be a very nice year in terms of being able to get some liquidity for these companies."
Holl said the deals showed a continued appetite to invest in earlier stage companies. It also reflected San Diego's continued strength in biotech — six of the seven IPOs were for life sciences companies.
The IPOs ranged from $19.5 million to $117.3 million. The latter stemmed from Crinetics Pharmaceuticals' July IPO, where the company, developing a treatment for endocrine cancer, far exceeded its goal of $80 million.
"As a community, there hasn't been a tremendous amount of non-life-science IPOs in the last three to five years," Holl said.
That could change in the next two years.
"In San Diego, there is a group of companies that will try to get out in the next 21-24 months and they're not all going to be life science companies," Holl said.
More broadly, while continued market volatility could have a chilling effect on IPOs next year, Holl said headliner IPOs, such as Uber and Lyft, could draw more interest from investors.
Jackie Kelley, Ernst & Young's IPO Market Leader, said exits from "unicorns," or companies valued above $1 billion, would keep more deals coming in.

"A number of unicorn companies brought IPOs to market in 2018, with more on record stating that they will be conducting IPOs in 2019," she said in a news release. "As we head into the new year, we expect IPO volumes to remain steady, driven by a number of high-quality issuers that have kicked off IPO processes."
San Diego IPOs in 2018:
Crinetics Pharamceuticals (San Diego): $117.3M
Synthorx Inc. (La Jolla): $100.1M
Ra Medical Systems Inc. (Carlsbad): $76.2M
Equillium Inc. (La Jolla): $71.6M
Eton Pharmaceuticals (San Diego): $21.6M
BioNano Genomics Inc. (San Diego): $20.6M
One Stop Systems Inc. (Escondido): $19.5M
Source: Ernst & Young LLP, IPO report for Q4 2018