Report: Human Longevity's Valuation Falls 80%
Sunday, December 9, 2018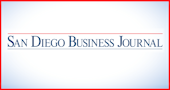 Human Longevity Inc.'s latest valuation: $310 million, down more than 80 percent from early 2017, amid commercialization struggles, according to the Wall Street Journal.
The San Diego Business Journal this summer reported on the company trying to move past executive exodus and workforce reduction. At the peak Human Longevity — which deploys genomics and advanced imaging for health insights — had 300 employees, which fell to 160 workers several months ago.

Human Longevity's board determined that the company needs $25 million in short-term financing, according to a November letter to shareholders reviewed by the San Diego Business Journal. The "down round" financing is viewed as a bad sign in the venture capital world.
The Wall Street Journal in a Dec. 7 article reported that the $25 million financing values Human Longevity at $310 million, versus $1.6 billion last year. That's according to a regulatory filing obtained by Lagniappe Labs LLC, whose Prime Unicorn Index tracks valuations of privately held companies, per the article.
In response to a San Diego Business Journal request, Human Longevity declined to comment.

Earlier this year co-founder, CEO and famed geneticist J. Craig Venter left, along with the company's CFO and head of regulatory affairs. A spate of exits occurred in 2017 as well, the San Diego Business Journal reported this summer.
In July, Human Longevity accused Venter of stealing trade secrets. The company filed a federal lawsuit against the J. Craig Venter Institute, a nonprofit that Venter founded and returned to following his departure from Human Longevity.

The institute has denied the claims.
Existing investors in Human Longevity include Illumina and Celgene.