TECH: CEO SAYS TOO EARLY FOR ANY IPO DECISION
Seismic Taps Former ServiceNow CFO
Wednesday, December 5, 2018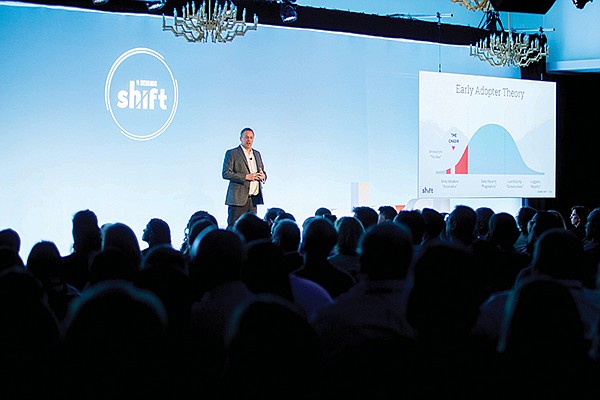 Seismic is laying the groundwork for big moves in the future. The fast-growing San Diego software company named its first chief financial officer in October.
John McCauley will take on the new role. He returned to San Diego after serving as senior director of finance for ServiceNow, helping lead the company through its $241 million initial public offering. Though ServiceNow is now located in Santa Clara, it's considered one of San Diego's biggest software successes with a market cap of nearly $32 billion.
If Seismic continues to grow at its current clip, the company could find itself in a similar position.
Revenue Growth
"It's too early to say whether we will do an IPO," Seismic CEO Doug Winter wrote in an email. "However, what we want to do is build an incredible organization that becomes exemplary in all areas of the business, from product innovation to customer success to finance, while also becoming an inspiration to other growing San Diego tech startups. John is going to help us tremendously in that regard."
Right now, the sales-enablement software company is sitting pretty with triple-digit revenue growth. The company grew its recurring revenue by 109 percent year-over-year at the end of last quarter, and booked $15 million in new business. Its clients include Illumina, Capital One and Seagate.
Much of the growth has been driven by adoption of the relatively new sales-enablement software, which provides sales teams with information about buyers and other tools to help them close the deal. But Seismic has also succeeded in keeping its users, with a 97 percent retention rate, and even acquired its larger, legacy competitor.
Those eye-popping numbers are part of what drew McCauley to join the company. He said the ability to land, expand and retain customers is critical for software-as-a-service (SaaS) companies to succeed.
In a 'Sweet Spot'
"If you have these three vectors at any SaaS company — they're extraordinarily hard to achieve — but once you have them, you're in a really nice sweet spot," he said.
McCauley's ties to San Diego brought him back before he took on the job. He and his wife grew up on Coronado, and he still enjoys surfing in his spare time.
"It was really a part of my decision, to see Doug's commitment to San Diego," he said.
After getting his master's degree at San Diego State University, McCauley joined Illumina, where he found his stride working for high-growth companies. With the experience he gained there in compliance and investor relations, he joined ServiceNow, just one year before the cloud computing company went public.
"It was an enormous amount of work," he said. "We need to prepare for the same thing here at Seismic."
Though McCauley said whether Seismic will go public is "anyone's best guess," he's focused on helping the business prepare for whatever the future holds.
IPO Ingredients
If Seismic hopes to go public, it will need three key ingredients: scale, visibility, or the ability to provide solid guidance to investors, and execution.
McCauley also sees an opportunity in Seismic to help carve a path for San Diego's future in software.
"At the end of the day, software companies need one thing: human capital," he said.
With startups like Classy, Agentology and Tealium growing into sizable ventures, McCauley said San Diego is building out a bigger ecosystem for top tech talent.
"We're in the very early stages about what I believe is a very important story," he said. "I'm humbled by that opportunity and excited about it."