Viracta Plots Entry Into China with $10M Financing and Partnership
Tuesday, December 4, 2018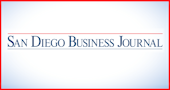 San Diego-based Viracta Therapeutics intends to bring a cancer therapy candidate to China through a recently inked partnership with Chinese drug company Salubris.
Salubris committed $10 million to Viracta Therapeutics as part of a larger undisclosed round. Under the deal with Salubris, Viracta is eligible for an additional $58 million in development milestones, along with commercial milestones and sales royalties if the drug wins approval.
Viracta's therapy for lymphomas linked to Epstein Barr Virus, or EBV, is in a phase 1b/2 clinical trial. The virus increases a person's risk of getting certain kinds of cancer, though often doesn't pose a risk.
Salubris will shoulder drug development in China, excluding Hong Kong, Macau and Taiwan. Viracta retains rights elsewhere.
"EBV-driven cancers disproportionately impact patients in China. We look forward to partnering with Viracta to develop this new treatment option in China. The approach holds the potential to provide a valuable new treatment option for these patients, who currently still face considerable morbidity and mortality," Salubris CEO Kevin Ye said in a statement.
Next year Viracta planned a clinical trial for the treatment of EBV-associated solid tumors.
Also taking part in the undisclosed round: Virtus Inspire Ventures, NantKwest, Latterell; Venture Partners and Forward Ventures.
More and more, San Diego biotechs are partnering with Chinese firms, as covered in this May San Diego Business Journal article.