In Another Acquisition, ResMed Buys Propeller Health for $225M
Monday, December 3, 2018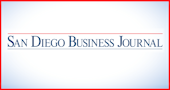 ResMed will plunk down $225 million to acquire Propeller Health, marking the San Diego company's third acquisition announcement this year.

Propeller Health makes smart inhalers for asthma and chronic obstructive pulmonary disease, or COPD. ResMed is known for digitally connected respiratory devices.
"Helping inhaler users improve adherence and avoid hospitalizations perfectly serves ResMed's mission: to improve people's quality of life, reduce the impact of chronic disease and save healthcare costs across the out-of-hospital care spectrum," said ResMed respiratory care president Richie McHale in a statement.
Propeller's small sensors attach to consumers' inhalers and pair with a mobile app to automatically track medication use, with feedback and insights.
The deal is expected to close by March 30.
ResMed, San Diego's largest medical device company, in November announced it would pay $750 million for MatrixCare, part of a strategy to expand software-as-a-service offerings. Earlier this year ResMed agreed to buy Healthcarefirst for an undisclosed sum.
The Healthcarefirst acquisition looks to tap into a growing trend: digitally connected devices for those who prefer medical care at home.