TECH: MAKES CONNECTIONS, MONEY SUPPORTING ECOSYSTEM
Qualcomm Ventures Wins at Supporting Role Backing Tech Startups
Sunday, December 2, 2018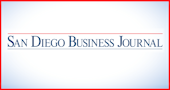 Qualcomm has tens of thousands of patents, many of which are engraved into the sprawling, blue patent wall that overlooks the lobby of the chipmaker's San Diego headquarters. The company's core business relies on its ability to innovate and anticipate future technologies. But even a company of Qualcomm's size can't build everything. That's where Quinn Li comes in.
Li oversees Qualcomm's $1 billion venture portfolio as senior vice president and global head of Qualcomm Ventures.
When he joined the company in 2005, its investment arm was relatively new, with a team of 10 focusing on mobile investments in the U.S. and China. Since then, Li has seen Qualcomm Ventures triple to a team of 30, investing in a broad swath of tech companies worldwide.
At the same time, Li said, he's also watched San Diego's startup community grow up.
The Ecosystem
"We've grown quite a bit over the time I've been here, and I think the startup ecosystem has grown quite a bit since I've been here in San Diego," he said. "We have some prominent incubators now. I think San Diego Venture Group has done a good job of getting investors in the Bay Area to come look at companies here."
Qualcomm Ventures is part of a growing surge of companies looking to invest back into startups. In 2017, corporate venture capital investment hit record levels globally, with $31.2 billion in investment and 1,791 deals, according to CB Insights. The number of active corporate VC arms increased from 222 in 2016 to 270 in 2017, according to the report.
A few San Diego companies created their own VC arms in 2016; Sony Corp. launched a $100 million innovation fund, with offices in the Bay Area, and Illumina Inc. raised a $230 million fund for genomics startups, also located in San Francisco.
After a tumultuous year at Qualcomm — in which it fended off a takeover bid — the company's investment arm is still by far the most prominent in the San Diego area, with more than 160 startups in its portfolio.
"I don't think overall our charter has changed over time," Li said. "We've gone through a lot as an organization in the earlier part of the year, with Broadcom trying to buy us and NXP, but all of those things are behind us. … We're focused on what we do: continuing to find great companies."
$100M AI Fund
Just last week, Qualcomm Ventures launched a $100 million AI fund. Li said the business is currently focused on AI companies that use edge computing, or where data is processed in-device, rather than in the cloud.
It's not alone in that effort; the amount of funding corporate VCs poured into AI startups nearly doubled in 2017 to $3.8 billion in investment, according to Crunchbase.
"We're interested in seeing where this market develops," Li said. "How we can be positioned as a leader in AI technologies? At the same time, we want to find interesting companies that we can invest in and partner with."
Qualcomm Ventures is also focused on investing in internet of things, automotive, robotics and 5G startups of all stages.
10 Unicorns
Li has three missions in his work with Qualcomm Ventures: lead deals that can create future customers, inform Qualcomm of new uses for technology, and of course, gain a return on its investment.
To that end, Li has been successful. Ten of the companies in Qualcomm Ventures' portfolio have become unicorns, with exits valued over $1 billion. This year has been particularly profitable, with 19 exits.
"Ideally, we want to create a situation for both companies where as their business grows, we can make a good return on our investment," he said. "But at the same time, in the ideal case, they will be a great business partner or customer of ours as their business grows."
One example of that is Xiaomi. In July, Qualcomm Ventures saw a big return when the Chinese phonemaker went public, with a $54 billion valuation. Qualcomm first invested in Xiaomi in 2010, when the company was founded in Beijing.
"We've worked with them for a long time," Li said. "It's a customer that we've invested in that's been very successful."

Other notable exits include Ring, the company that makes connected doorbells and cameras, which Amazon acquired for $1 billion in February; Cruise Automation, a developer of autonomous vehicles that was acquired by General Motors in 2016 for $1 billion; and Fitbit, the wearables company that went public in 2015, and was valued at $4.1 billion.

Active Corporate VC Fund
San Diego Venture Group President Mike Krenn said Qualcomm Ventures stood apart from its peers for its scale, consistently ranking among the top five most active corporate VC funds nationally, as well as its unique investing strategy.
"Qualcomm Ventures has been around for long enough, and is substantial enough, that they will actually lead rounds," he said. "They still have a big ROI at the end of the day, but they're a little more driven by strategy. It's a good way to keep close to companies so they can do acquisitions earlier rather than later."
Local Dollars
Though the majority of its investments fall outside of the San Diego metro, Qualcomm Ventures still has a stake in many of the area's fast-rising tech startups, including Brain Corp., Airspace Technologies, AttackIQ and EdicoGenome.
For example, AI startup Brain Corp. was initially housed on Qualcomm's campus, while founder and CEO Eugene Izhikevich consulted for Qualcomm. At the time, he was working on developing a chip that would mimic how the brain functions. But Izhikevich's dream, he wrote in an email, was to build his own company.
He incubated the company on Qualcomm's campus during its early years, and Qualcomm supported it as an investor after the company moved into its own offices.
Funding aside, Izhikevich said he received important feedback from Qualcomm, in learning he didn't have to build everything himself.
"Brain Corp's own model focuses on partnerships with original equipment manufacturers and turning pre-existing machines into robots versus creating a robot from the ground up," he wrote. "Qualcomm Ventures specifically recognized that growing a robotics company (arguably one of the hardest types of tech companies to build) takes time and resources. The group was supportive in the sense that they didn't start demanding a viable product and huge returns right away."
Now, Brain Corp. has autonomous cleaning products powered by its AI in the U.S. and Japan. It landed $114 million in funding led by SoftBank's Vision Fund last year.
Incubator Supporter
Qualcomm is also heavily involved in local startup incubator EvoNexus, which has graduated a pedigree of successful tech companies. Qualcomm Ventures is one of three corporate sponsors, alongside Viasat and Cubic Corp., which provide financial support and guidance to the participating companies.
To date, Qualcomm has invested in six EvoNexus companies, and acquired two of them. In 2014, it acquired FatSkunk, a mobile malware detection company, and the following year it acquired Silanna Semiconductor North America.
"We try to find the right companies wherever they are. If they happen to be in San Diego, great," Li said. "We want to support the local ecosystem."

In other cases, Qualcomm has sent its own spinoff companies to the incubator.
One of the companies currently residing at EvoNexus, Obsidian Sensors, makes thermal-sensor technology for low-cost infrared imaging. The company split off in 2017, when its founders were able to license its intellectual property from Qualcomm.
Observer Seats, Not Board Seats
For local startups, Krenn said having the brand recognition, customer acquisition and tech help of a large corporate VC can be helpful early on. Corporate VCs also tend to take observer seats rather than board seats, which can allow a startup's CEO and board to stay in the driver's seat.
At the end of the day, Krenn said Qualcomm Ventures plays a critical role in San Diego's tech sector.
"In a city that really has no major tech venture funds, we'd really be hurting without them," he said. "They are one of the anchors of the community."