TECH: MAKES CONNECTIONS, MONEY SUPPORTING ECOSYSTEM
Qualcomm Ventures Wins at Supporting Role Backing Tech Startups
Sunday, December 2, 2018
Qualcomm has tens of thousands of patents, many of which are engraved into the sprawling, blue patent wall that overlooks the lobby of the chipmaker's San Diego headquarters. The company's core business relies on its ability to innovate and anticipate future technologies. But even a company of Qualcomm's size can't build everything. That's where Quinn Li comes in.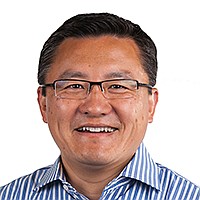 Li oversees Qualcomm's $1 billion venture portfolio as senior vice president and global head of Qualcomm Ventures.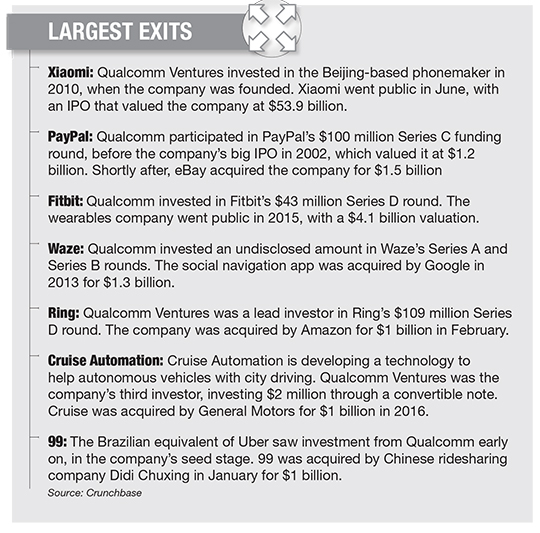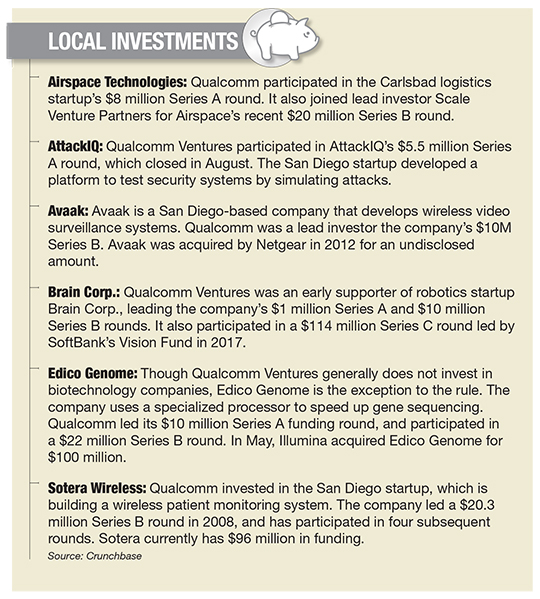 When he joined the company in 2005, its investment arm was relatively new, with a team of 10 focusing on mobile investments in the U.S. and China. Since then, Li has seen Qualcomm Ventures triple to a team of 30, investing in a broad swath of tech companies worldwide.
At the same time, Li said, he's also watched San Diego's startup community grow up.
The Ecosystem
"We've grown quite a bit over the time I've been here, and I think the startup ecosystem has grown quite a bit since I've been here in San Diego," he said. "We have some prominent incubators now. I think San Diego Venture Group has done a good job of getting investors in the Bay Area to come look at companies here."
Qualcomm Ventures is part of a growing surge of companies looking to invest back into startups. In 2017, corporate venture capital investment hit record levels globally, with $31.2 billion in investment and 1,791 deals, according to CB Insights. The number of active corporate VC arms increased from 222 in 2016 to 270 in 2017, according to the report.
A few San Diego companies created their own VC arms in 2016; Sony Corp. launched a $100 million innovation fund, with offices in the Bay Area, and Illumina Inc. raised a $230 million fund for genomics startups, also located in San Francisco.
After a tumultuous year at Qualcomm — in which it fended off a takeover bid — the company's investment arm is still by far the most prominent in the San Diego area, with more than 160 startups in its portfolio.
"I don't think overall our charter has changed over time," Li said. "We've gone through a lot as an organization in the earlier part of the year, with Broadcom trying to buy us and NXP, but all of those things are behind us. … We're focused on what we do: continuing to find great companies."
Prev Next