Connect Names 7 'Most Innovative' Products
Sunday, December 2, 2018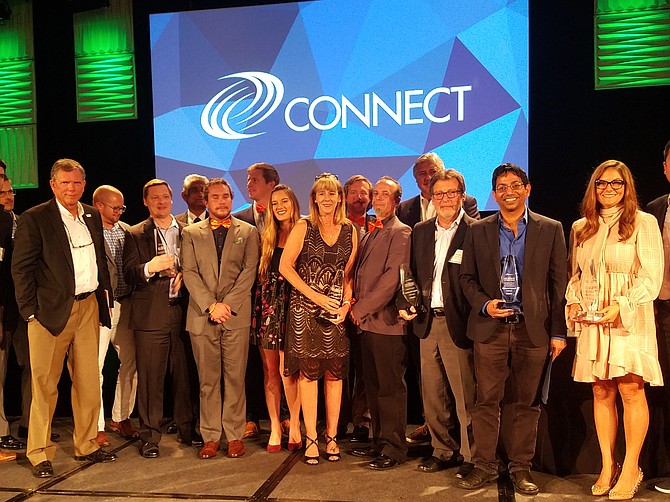 San Diego's oldest startup accelerator honored companies for promising technologies that could change the future.
Seven technology and life science companies were crowned "Most Innovative" at Connect's annual Most Innovative New Product Awards on Nov. 30. Finalists showcased products that had been launched in the last two years, ranging from diagnostic technologies long in the making to techs that can detect and deter drones.
For the event's 31st year, judges reviewed more than 90 applications before narrowing down the pool to 23 finalists, who then pitched their products. This year's winners include:
Citadel Defense
Product: Citadel Titan
Citadel Defense's technology uses machine learning algorithms to detect and classify drones that could pose a threat to combat troops. The system detects communications between Unmanned Aerial Vehicles and controllers, and can be used to cause drones to leave the field.
Primo Wind
Product: EnergiPlant
Primo Wind's EnergiPlant is a small turbine that can be installed in public spaces. It can be used to power WiFI, charging, lighting and security cameras.
Formalloy
Product: L-Series 3D Printer
Formalloy 3D prints metal parts using a blue laser. This technology allows it to manufacture products faster than the competition and process a wide range of metal alloys. The Connect SpringBoard accelerator graduate recently manufactured rocket nozzles for NASA.
Qubitekk
Product: Quantum Transceiver
Qubitekk's quantum transceiver provides a way of secure encryption and authentication for defense and energy applications. The company uses physics, rather than algorithms, to ensure secure communications.
Banyan Bio
Product: Banyan BTI
Banyan Bio is based on research that found a way to detect concussions using biomarkers. The company's product is a diagnostic blood test meant to help diagnose patients with concussions without the radiation exposure of a CT Scan. The company recently gained FDA approval for its product as a breakthrough device in February.
Biological Dynamics
Product: Omniverita
Biological Dynamics is pursuing FDA approval for the use of its cancer screening technology, Omniverita, for lung cancer. The system is able to isolate biomarkers, such as cell-free DNA, without sample pre-processing, allowing for test results in less than an hour. In June, Qualcomm Founder Irwin Jacobs joined the company's board.
Stemonix
Product: microBrain 3D Assay Research Plate
Stemonix develops assays of microtissues that can be used for drug discovery, safety testing and disease monitoring. Its microBrain 3D assay research plate contains 384 "spheroids" made of neural cells that can be used for these purposes, as well as to test neurotoxicity.