S.D. Cos. Chosen to Help Run Solar on Multifamily Affordable Housing Program
Thursday, August 30, 2018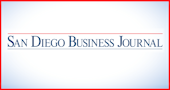 San Diego-based Center for Sustainable Energy and GRID Alternatives, among other statewide nonprofits, have been chosen to run California's new Solar on Multifamily Affordable Housing (SOMAH) program. The initiative, spearheaded by the California Public Utilities Commission, will provide up to $100 million annually for 10 years to help reduce energy bills for low-income families by funding solar energy installations in disadvantaged communities throughout the state, according to a press release.
"The idea behind SOMAH is to ensure equal access to solar energy for all California households, regardless of income levels," said Benjamin Airth, a senior specialist in distributed energy resources at the Center for Sustainable Energy. "Low-income renters pay a higher percentage of their income on utility bills, and improving access to solar means lower bills, better housing security and a cleaner, healthier environment for all Californians."
Other nonprofits involved include: Association for Energy Affordability, California Housing Partnership Corporation, Rising Sun Energy Center and California Environmental Justice Alliance. To qualify for SOMAH, properties must either be in a disadvantage community or have at least 80 percent of its households with incomes at or below 60 percent of the area median income.
The SOMAH program is expected to launch late 2018.